'Ocean Brothers' complete 3,000 mile row across Atlantic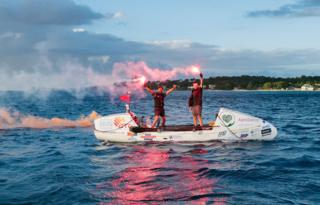 Two British brothers have completed a 3,000 mile unsupported row across the Atlantic Ocean.
Greg Bailey and Jude Massey spent 53 days rowing in memory of their dad, Peter Massey, who died in 2015.
Arriving in Barbados on Sunday 19-year-old Jude became the youngest person to row across an ocean in a team of two.
He said it "feels amazing to have a Guinness World Record and to have raised £82,000 for skin cancer research".
It's thought the half brothers, from Lymington, are the first to complete the crossing on a vegan diet.
The brothers began their 53 day journey to Barbados in Gran Canaria on 18 January.
On Sunday they finally stepped off the boat at 5:38pm local time to be greeted by family and friends.
It wasn't all plain sailing though.
A broken watermaker, which turns salt water into freshwater for drinking, meant that Jude and Greg had to hand-pump water to survive for five hours a day from day four onwards.
And then there was the time they capsized and spent 20 minutes in the water at dusk.
Despite having hallucinations, being hit in the face by a flying fish and "extreme back pain" from steering and rowing at the same time, the two men continued on.
In 2015 the pair's father, Peter Massey, died having suffered from skin cancer.
Peter had a "love for the sea" which led the novice rowers to take on the challenge.
Jude and Greg documented their journey on Twitter, showing their followers exactly how they were coping.
But it wasn't all bad.
They saw lots of wildlife along the way and both men even celebrated their birthdays whilst in the middle of the Atlantic Ocean.
When they finally arrived on the shores of Barbados their mum was there to greet them both, deeming it "the best Mother's Day present a mum could have".
"When I said goodbye to them at the airport in Gran Canaria, I walked away thinking 'will I ever see them again?'," she said.
Jude, who is training as a sailing and ski instructor, said it felt amazing to have a Guinness World Record.
"After 53 days at sea I feel really wobbly and I just can't believe we've made it this far - it's incredible," he said.
Greg said he was "overwhelmed" at finally making it to Barbados.
"I'm so happy that we managed to complete the challenge for the British Skin Foundation in memory of Peter and raise awareness of skin cancer at the same time," he said.
Follow Newsbeat on Instagram, Facebook and Twitter.
Listen to Newsbeat live at 12:45 and 17:45 every weekday on BBC Radio 1 and 1Xtra - if you miss us you can listen back here.