Sextortion: Big rise in victims with 'tens of thousands at risk'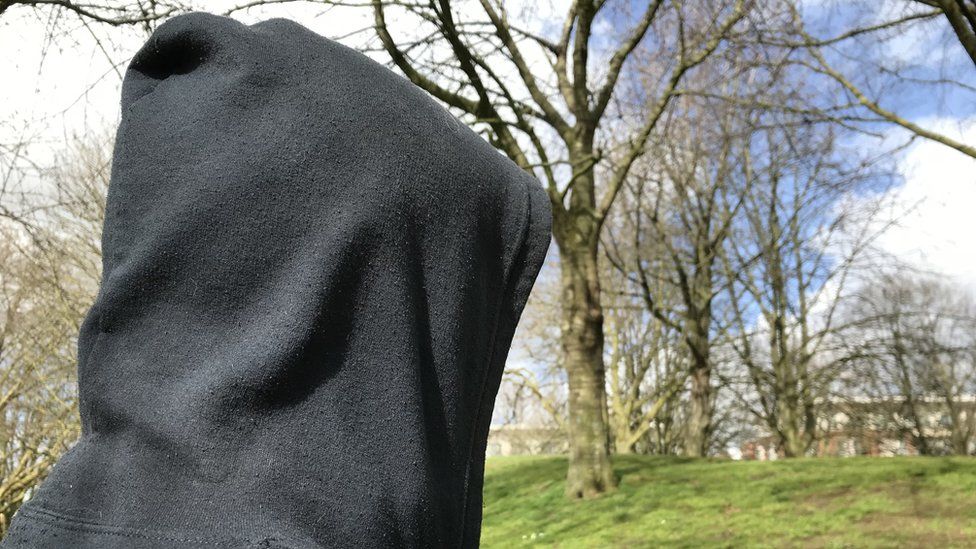 There's been a big rise in the number of victims of sextortion being reported to the National Crime Agency (NCA).
There were 1,304 cases reported in 2017, up from 428 in 2015 - although the real number of victims is thought to be much higher.
Sextortion is when people, mainly men in their teens and twenties, are talked into letting themselves be filmed carrying out sex acts.
Victims are secretly recorded and then blackmailed by criminal gangs.
Warning: Contains graphic sexual references.
NCA investigators say "tens of thousands" of people are putting themselves at risk.
It happened to one man, who we agreed to call Simon to help try to protect his identity.
"What happened was the computer screen I was looking at flipped - and I was then watching a video of myself back on a loop," he told Newsbeat.
"You never expect it to happen to you"
Simon, who is in his twenties, had met a woman online he thought was interested in getting into a relationship with him.
Before long they were making video calls, shortly after that he was getting intimate with her and that's when he agreed to let himself be filmed masturbating.
"As soon as I saw the screen flip, I knew what was coming," Simon told us.
"I know this sort of stuff happens but you never expect it to happen to you.
"They said: 'We want £600 or we're going to send this video to all of your friends and family.'"
Simon had just become the victim of an international criminal gang, most likely based in the Philippines.
They'd recorded the footage and were playing it back at him.
"I don't know how but they'd got the names and contact details of my friends and family and work colleagues.
"It certainly felt a lot more sinister at that point. It felt more real as opposed to just a scam where someone's trying to rip you off. That's when it got really serious."
Simon initially transferred £150 to an account in the Philippines hoping his blackmailers would leave him alone. But they didn't.
Three days later they came back for more. He paid them another £150 and hasn't heard from them since.
"I was just...not devastated, but more disappointed. That someone would think to do this to someone else.
"I was angry at the person for doing this. I was angry at myself for letting that happen. Being so stupid basically.
"I was worried. It just shocked me."
Simon has since gone to the police and has been given advice on how to help try to catch his blackmailers if they get back in contact.
The National Crime Agency says if anyone ever finds themselves being blackmailed in this way the advice is simple.
By its very nature sextortion is an under-reported crime and the few victims that do come forward to police often have no way of knowing who blackmailed them or how to get their money back.
That's one of the reasons the true number of victims is thought to be much higher than the figures reported to the NCA.
Investigators at the agency believe millions of pounds is blackmailed from victims in the UK each year.
Roy Sinclair from the National Crime Agency told Newsbeat: "Tens of thousands of people, mainly young men, are putting themselves at risk of sextortion.
"Some people have paid the ultimate price and we know of at least five people who've taken their own life because they felt there was no other way out."
Getting naked on camera: The advice
Joanne Bocko is a Cyber Protect Officer for Avon and Somerset Police and says there are serious risks to getting naked on camera.
"People need to be aware - once that footage is made, it's gone and it's out of your hands what happens next," she says.
"Most likely it's organised crime groups in the Philippines, Morocco. And their job will be to bring cash in from victims all around the world."
As for how serious the problem can get, Joanne is blunt.
"People have killed themselves over this kind of thing in the UK. So it can be very, very serious.
"Just imagine - indecent or naked images of yourself going to your boss, your friends, your family. It can be absolutely devastating and horrendous for those people involved.
"Ultimately we'd advise people not to get naked on webcam - but we understand it happens."
If you want advice about staying safe online, check out BBC Advice.