Demi Lovato thought about taking her own life aged seven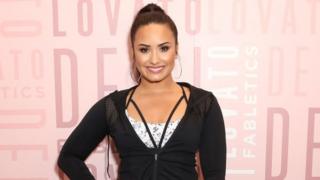 Demi Lovato thought about taking her own life at the age of seven, she has revealed.
The singer said there were times her mum would be afraid to wake her up because she didn't know "if I'd be alive or not".
"At seven I knew if I were to take my own life that the pain would end," she told US TV host Dr Phil.
She said she continued to have suicidal thoughts when struggling with depression and her bipolar disorder.
The 25-year-old has been open about her struggles with mental health - including substance abuse, eating disorders and depression.
She has offered fans who have bought tickets to her latest tour free wellness and therapy sessions.
Demi told Dr Phil her suicidal thoughts were "driven by sadness, loneliness and depression".
She said she believes a lot of what she felt was to do with "unresolved issues" with her birth father.
She told Dr Phil her dad, who died in 2013, had mental health issues which meant he wasn't capable of raising a family.
"That I hadn't dealt with yet.
"Now I've got older and I've been able to grieve the loss of him and I've been able to step back and look from a distance that he was mentally ill and it wasn't his heart that meant to abandon me, I've been able to overcome his loss and understand where everything went wrong.
"And that sadness has been going away."
On Friday, the singer celebrated her six-year anniversary of being sober during a performance in New York.
DJ Khaled and Kehlani encouraged fans to sing Happy Birthday to mark the occasion as they paid tribute to Demi on stage.
Demi told Dr Phil that she feels like she's conquered her addiction to alcohol but still has to work on her issues with food.
"My eating disorder started when I was very young and is something I work on on a daily basis.
"It's kinda the last thing to go. I feel like I've conquered my addiction and alcoholism in a way I don't think about it anymore.
"But my struggle with my food issues are something that I still deal with. But I'm growing and I'm in a really good place today."
For advice and information on mental health visit the BBC Advice pages.
---
Advice and support
If you or someone you know are feeling emotionally distressed, these organisations offer advice and support:
Follow Newsbeat on Instagram, Facebook and Twitter.
Listen to Newsbeat live at 12:45 and 17:45 every weekday on BBC Radio 1 and 1Xtra - if you miss us you can listen back here.