Florida school shooting students told to wear clear backpacks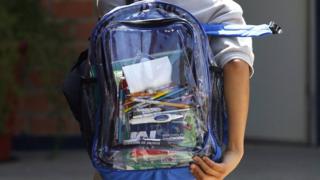 Students at the Florida high school where 17 people were shot dead last month are being asked to wear clear backpacks.
School officials have written to families of Marjory Stoneman Douglas High pupils outlining the plans as part of new security measures.
They said any student without a clear rucksack would be given one at no cost.
But some pupils say it does nothing to tackle the issue of gun control.
As well as introducing the backpacks, there will also be airport-style metal detectors and school visitors will be funnelled through special gates.
"We're going to be able to man every gate at the school during school hours and for after-school activities," said the superintendent of Broward County Public Schools, Robert W. Runcie.
"We will be implementing a program for clear backpacks after spring break.
"We are also going to funnel students and visitors to confined points and wand folks [people with portable scanners] like you'd see in airports and so forth."
But students have been tweeting criticism of the plans.
Since the shooting when Nikolas Cruz opened fire killing 17 people, students there have been leading calls for gun reform.
Donald Trump has told US politicians he wants tougher laws with "really strong background checks", while he's faced anger from anti-gun protestors for suggesting training school staff to use firearms.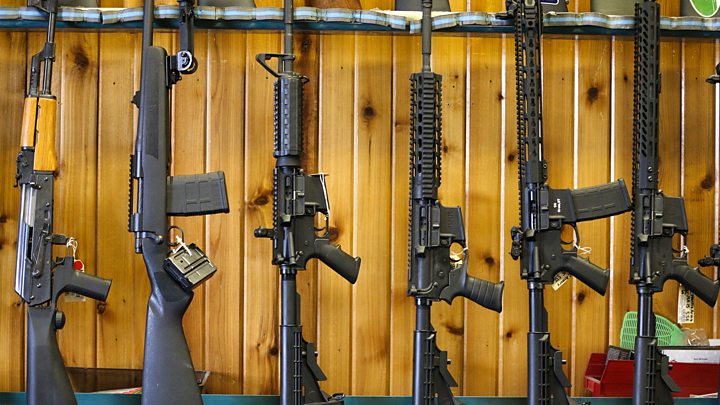 In the last few days safety at Marjory Stoneman Douglas High has been called into question again after several security breaches.
The brother of the gunman was charged with trespassing on campus on Monday and three students were arrested on Tuesday, two for carrying knives and one for making threats on Snapchat.
Some parents have become so worried they've been keeping their children off school.
In his letter, Mr Runcie also said they will evaluate "code red" training in the school which includes "active-shooter protocols and drills" and upgrading surveillance camera systems.
Schools with multiple entry points would have single points of entry by the first quarter of 2019
"We've got to put things into place now," he said.
"Make sure that classroom doors are always locked. Make sure the people that are actually monitoring the campus, are doing so with a high degree of vigilance."
Follow Newsbeat on Instagram, Facebook and Twitter.
Listen to Newsbeat live at 12:45 and 17:45 every weekday on BBC Radio 1 and 1Xtra - if you miss us you can listen back here.