Chance the Rapper attacks Heineken for 'racist' advert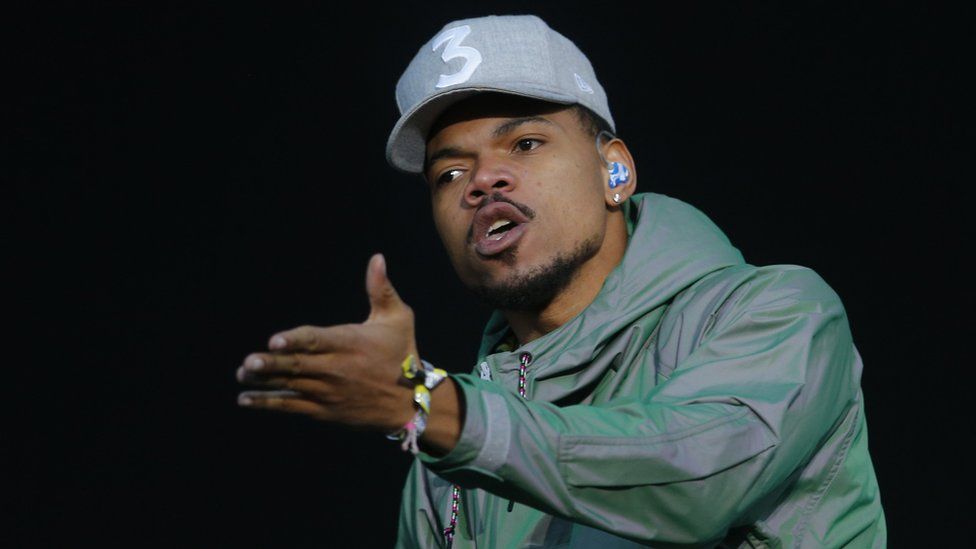 Chance the Rapper has branded an advert for a low calorie Heineken drink as "terribly racist".
The ad, which the US star linked to on his Twitter, sees a bartender slide a beer past three black people before it stops near the hand of a lighter-skinned woman.
As the woman picks up the beer, the tagline "sometimes, lighter is better" appears on screen.
Heineken said it had "missed the mark" with the advert.
The advert, which aired in the USA, New Zealand and Australia, was for a Heineken Light beer which has 99 calories.
The 24-year-old rapper suggested some companies are purposely putting out "noticeably racist ads" ads to get more views.
Just saw this ad and immediately recognized the racialized message without having seen any tweets about it previously. I do not think this was a coincidental mistake. It comes across as very intentional. @Heineken NO!

— shannonbieger (@shannonbieger) March 26, 2018
Absolutely true, suspect enough to get a mention from chance the rapper but vague enough to retain plausible deniability. It might be genius?

— nothanks (@rapturebadsi) March 26, 2018
Yeah it's bizarre that they'd even think it's ok. Makes me think Chance's theory is correct. It's subtle enough to maintain deniability, but noticeable enough to gain publicity. Plus, it gives them big ups within the "anti-PC" (pro-casual racism) crowd.

— elliot (@GlEl97) March 26, 2018
Not everyone thought the same.
Yeah it's maybe tone deaf but I don't think they did it on purpose tbh.

— Angel Rodriguez (@Obeytheboii_11) March 26, 2018
that makes no sense. they are a light beer. what else are they supposed to advertise?

— Jason Shaw Jr (@JaeDeLaSoul) March 26, 2018
A spokesperson for Heineken USA said: "Heineken has developed diverse marketing that shows there's more that unites us than divides us.
"While we feel the ad is referencing our Heineken Light beer, we missed the mark, are taking the feedback to heart and will use this to influence future campaigns."
Heineken is not the only famous brand to be called out over claims its adverts were "racist".
In January, H&M apologised for a poster showing a black child modelling a hoodie that had the words "coolest monkey in the jungle" on the front.