Who bit Beyonce? Fans investigate claims star was bitten on face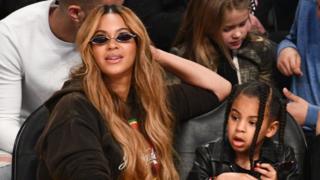 Beyonce fans are turning into amateur detectives after learning that she was apparently bitten on the face at a party.
Actress Tiffany Haddish revealed details about the bizarre incident in an interview with GQ, but left the culprit unnamed.
Two actresses have already had to deny being guilty following media speculation.
Now fans are using #WhoBitBeyonce to track down the person responsible.
Tiffany, who stars in Girls Trip, said she met Beyonce at a party in December last year.
"There was this actress there that's just, like, doing the mostest," she told GQ.
"She bit Beyonce in the face... So Beyonce stormed away, went up to Jay Z, and was like, 'Jay! Come here!' - and snatched him.
"They went to the back of the room. I was like, 'What just happened?'"
Beyonce's representatives told GQ they don't know anything about the incident with the actress, who Tiffany has not named.
But that hasn't stopped the Beyhive from speculating wildly.
And celebrities have been wading in on the action too.
Model Chrissy Teigen says she has her suspicions.
Which led to a real rollercoaster ride.
Eventually, it appears, she discovered who it was.
The party took place after a Jay Z show on 22 December in Inglewood, California, according to Tiffany.
That bit of information led to The Cut drawing up a shortlist of potential suspects based on who they say was there.
Rihanna, James Franco, French Montana and Diddy were all supposedly there - and were all written off as innocent by the magazine.
Tiffany said the culprit was an actress, leading to former 90210 star Sara Foster being mentioned.
Sara made it pretty clear it wasn't her.
Meanwhile Sanaa Lathan, star of Love & Basketball, has been the victim of bee emoji attacks - with the Beyhive posting them all over her Instagram.
She too says she's not the biter.
It looks like the speculation will continue.
But in the meantime fans are having lots of fun with the memes.
Beyonce and Jay Z recently announced their On The Run II tour, which comes to the UK later this year.
Follow Newsbeat on Instagram, Facebook and Twitter.
Listen to Newsbeat live at 12:45 and 17:45 every weekday on BBC Radio 1 and 1Xtra - if you miss us you can listen back here.