How Dynamo's Crohn's video is helping people with bowel disease

The magician Dynamo released a video of himself on Tuesday explaining he became "really sick" from food poisoning and Crohn's disease last year.
His appearance has changed after putting on weight from his medication.
Symptoms of Crohn's include diarrhoea, abdominal pain and blood and mucus in your poo - making it something many people want to keep quiet about.
But some people with bowel disease say that Dynamo's video helps them feel like they can talk about their condition without feeling embarrassed.
'Awareness for young people is incredibly important'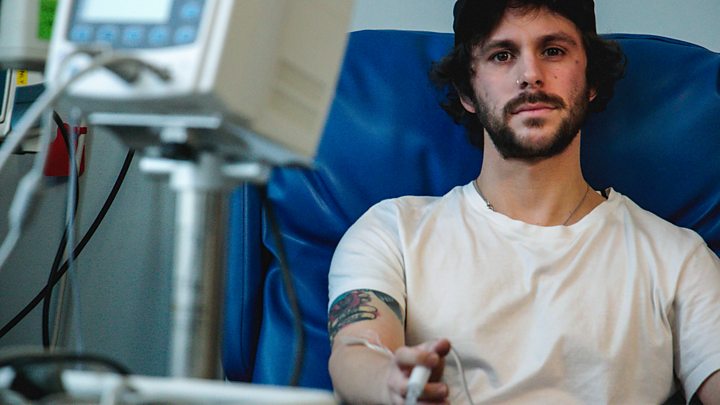 Mark Holley, the lead singer of rock band Black Foxxes, has Crohn's disease and says Dynamo's video is "incredibly brave".
"I think he should be really proud of himself to be able to speak out about it."
He's had the "moonface" that results from Crohn's medication - which in his case was steroids.
"Steroids are weird. You wake up and you feel incredible, and then you suddenly have major mood swings," he tells Newsbeat.
"I couldn't stop eating."
He adds that Crohn's is an invisible illness - it's not immediately obvious that someone has it, and as a result it gets talked about less.
"Any awareness for young people is incredibly important, especially with the rate of young people being diagnosed with the disease every year."
According to the NHS, in England the number of 15 to 29-year-olds diagnosed has increased from 9,256 in 2007 to 29,624 in 2016.
"Anyone that does have it, I would urge them to speak out about it, and make it as socially acceptable as it should be."
'To see him like that, you feel like you're not alone'
Lisa Wilkinson has ulcerative colitis, which, like Crohn's, is an inflammatory bowel disease.
Her medication had similar side-effects to Dynamo's.
"I ended up with a severe moonface, lots of body hair, gained a little bit of weight, but it was mainly my face that you could tell. It wasn't very nice at all."
The reactions meant that Lisa had to have surgery.
"I have an ileostomy, which is where the waste goes into a bag outside the body," she says.
Since then she has decided to help others who live with a waste bag attached to them.
"For three years now, I've been making covers that go over those bags to make you feel more confident."
Lisa was pleased to see someone as high-profile as Dynamo open up about living with Crohn's.
"Not many talk about it, and to see celebrities go through the same thing that we go through, it really inspired me," she says.
"To see him like that, you feel like you're not alone, and there are people out there the same."
Follow Newsbeat on Instagram, Facebook and Twitter.
Listen to Newsbeat live at 12:45 and 17:45 every weekday on BBC Radio 1 and 1Xtra - if you miss us you can listen back here.