Plastic straws: Which companies are banning them?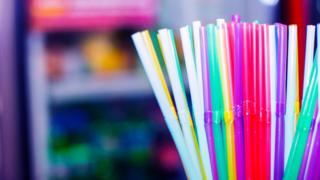 Campaigns and shows like Blue Planet II have given us a glimpse into what single-use plastics - like straws and bottles - do to our oceans and the wildlife that live in them.
We use an estimated 8.5 billion plastic straws every year in the UK.
They're among the top 10 items found in beach clean-ups.
And they're often made of plastics which take hundreds of years to decompose and are only used for a very short time.
It's even been suggested that straws could be banned in the UK.
Environment Secretary Michael Gove talked about it recently - although he was pretty vague, saying "watch this space".
Meanwhile more and more restaurants and shops are banning them. Here's Newsbeat's guide to the places promising that this is the last straw.
McDonald's
The super-sized fast food chain has become the latest company to speak about its plans to reduce single-use plastics in the UK.
It's announced that some stores will be trying out paper straws from May and it's also moving straws behind the counter.
"Customers have told us that they want to have to ask for a straw," says Paul Pomroy, the company's UK CEO.
"Our straws are already 100% recyclable, but we know more can be done," he adds.
All Bar One
Bar chain All Bar One were among the first to start limiting use of straws and used the hashtag #strawssuck to encourage others to join in.
In mid-2017 it began to replace its plastic straws with eco-friendly versions.
The company says it's seen "a considerable reduction in plastic straw usage" since making the move and says reaction from customers has been positive.
Wetherspoon
All JD Wetherspoon pubs, and there are nearly 900 of them around the country, stopped using plastic straws at the beginning of the year.
A spokesperson told Newsbeat "the company was previously using 70 million plastic straws a year" and staff were automatically putting them into drinks.
Now Wetherspoon's straws are biodegradable and must be specifically requested by the customer.
Pizza Express and Wagamama
Ava, a five-year-old Pizza Express customer, prompted the Italian food restaurant chain to make a change with its plastic straws.
The company said the letter above "spurred the business to make a change" and it will be replacing all plastic straws with biodegradable ones by summer 2018.
Wagamama has made a similar move, with plastic straws only available if you specifically ask for them.
Coffee chains
Costa Coffee and Pret A Manger have made the decision to take action too.
Both say they will be replacing their plastic straws with alternatives in 2018.
Although you will still be able to request a plastic straw from staff at Pret A Manger if you need it.
Supermarkets
Some major supermarkets are also on board.
Waitrose says it's removing all plastic straws from its shelves by September this year.
And the chain didn't stop there - it's also promising to reduce plastic whenever possible including removing black plastic food trays - which are difficult to recycle.
Iceland, who have previously supported the introduction of a deposit return scheme for plastic bottles, also aims to be "plastic-free" by 2023.
It has already removed plastic straws from its own label range.
Morrisons says it plans to phase out drinking straws in its cafes.
Marriott International
More than 60 of Marriott International's UK hotels will be removing plastic straws from circulation with immediate effect.
The hotel chain said in February 2018 that it was making a "small and significant step in playing our part in reducing the volume of plastic that damages our environment and wildlife".
Like many of the other companies mentioned above, Marriott says that customers who request a straw will be given a biodegradable or paper alternative.
London City Airport
London City Airport announced in February that it had removed all plastic straws from all its food and drink outlets.
It claims to be the first UK airport to implement the plan which "is helping to reduce the amount of plastic waste".
The Marine Conservation Society says that "plastic straws really do suck".
Its advice to customers is: "Just say no, because you just don't need it and you'll be doing the oceans a massive favour!"
Follow Newsbeat on Instagram, Facebook and Twitter.
Listen to Newsbeat live at 12:45 and 17:45 every weekday on BBC Radio 1 and 1Xtra - if you miss us you can listen back here.