'Stolen office lunch' drama has Twitter gripped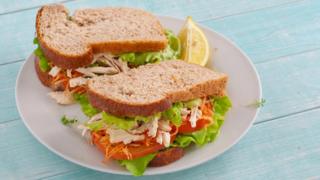 We've all been there and felt the gut-wrenching pain.
You bring that delicious lunch you've carefully prepared at home to the work office.
You place it in the communal fridge, get on with your morning's work, and when you go to take it out later...
It's gone.
That's exactly what seems to have happened at Zak Toscani's office.
His posts about a co-worker discovering who had stolen his lunch have gone viral - with one tweet getting more than 460,000 likes.
He told Newsbeat he never expected such a reaction.
"It's truly wild. I honestly thought some of my friends would get a kick out of this but it's been constantly exploding. It's been really weird.
"It's been awesome. I think so many people have responded to it because everyone who works in shared office spaces have maybe encountered something similar.
"It was not expected in the least but it's been really fun".
It all started on Thursday when he tweeted his co-worker was allowed by HR to check the CCTV to find out who had stolen his lunch.
The lunch was shrimp fried rice.
After watching the footage, the thief was revealed.
Then came the company-wide email about not stealing other people's lunches.
The culprit then apparently asked the victim: "Why would you go to HR about that?"
Zak threw in a curveball by ordering three shrimp fried rice plates to the office.
And then there was the cliffhanger.
Zak, 33, is also a comedian but insists the story of the stolen lunch isn't a hoax.
He says he hasn't been back in his office since the tweets went viral so he doesn't know what reaction he's going to get from co-workers.
He is due back in work on Monday.
Zak said the question that everyone still wants answered is "Why did she do it?" but he won't be the one to ask the culprit.
He told Newsbeat he feels like the question would need to come from the co-worker who had his lunch stolen.
"When I started tweeting I showed it to him and he loved it. So I'm leaving it in his hands, if he wants to broach the subject.
"She seems oblivious to the fact that everyone in the office knows.
"I have no idea what to expect."
Follow Newsbeat on Instagram, Facebook and Twitter.
Listen to Newsbeat live at 12:45 and 17:45 every weekday on BBC Radio 1 and 1Xtra - if you miss us you can listen back here.