Star Wars fans want Meryl Streep to play Princess Leia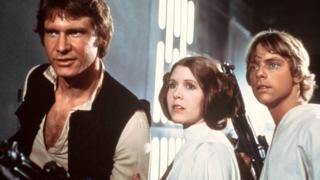 Star Wars fans have started a petition calling for Meryl Streep to play Princess Leia in the next film in the franchise.
The role was previously played by Carrie Fisher, who died in December 2016.
Fans are calling on Disney, LucasFilm and director JJ Abrams to replace Fisher with Meryl Streep in Episode IX.
The petition, which follows rumours of Meryl Streep taking on the role, describes her as "an ideal candidate".
It says: "With three Oscar wins and twenty nominations (probably twenty-one by next year), her achievement in acting has long been recognised.
"As a close friend of Carrie Fisher, Meryl Streep may have huge ton of pressure to played Leia.
"However, we strongly believe that she is the best hope for us to see the legacy of Carrie Fisher in Episode IX."
It also refers to Meryl Streep's performance in a 1990 film called Postcards From The Edge, which was written by Carrie Fisher.
"In Postcards From The Edge... Meryl Streep played Suzanne Vale, who is believed to be based on Carrie Fisher herself.
"Therefore, Meryl Streep's performance in the film can be seen as her portrayal as Carrie Fisher.
"Apart from gaining a nomination for Academy award for best actress, this film also resulted in a close friendship between Meryl Streep and Carrie Fisher."
It closes: "May the force be with Carrie Fisher, Meryl Streep and Princess Leia".
The petition currently has over 8,500 signatures but not all star wars fans are keen on the idea.
Commenting about the petition, one person tweeted: "Not only no, but HELLLLLLLL NO. Stop it. You don't recast that role. Ever."
Another said: "Oh, did someone order a terrible idea? Well, it's arrived".
There's been no response from any of the people addressed in the letter.
It's understood Princess Leia was set to be at the centre of the plot for Episode IX, which is planned to be released in December 2019.
The script has reportedly been rewritten after her death, with Star Wars producers previously saying they will not digitally recreate Fisher for future movies.
Follow Newsbeat on Instagram, Facebook and Twitter.
Listen to Newsbeat live at 12:45 and 17:45 every weekday on BBC Radio 1 and 1Xtra - if you miss us you can listen back here.