Avengers: Infinity War stars assemble to stop spoilers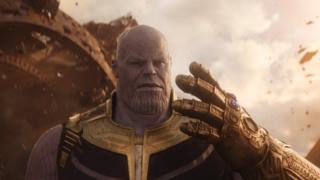 It's almost impossible to keep the details of a major movie secret nowadays.
But the stars of Avengers: Infinity War are attempting it.
Robert Downey Jr. and Tom Holland are among those sharing #ThanosDemandsYourSilence on social media.
The hashtag was started by directors Joe and Anthony Russo. It refers to the villain of the film, which will be released in the UK on 26 April.
The message is now being shared by fans around the world.
The Russo brothers tweeted a picture of the Infinity Gauntlet - an armoured glove worn by baddie Thanos, which is encrusted with the Infinity Stones.
In the picture a hand wearing the gauntlet is holding a statement from the brothers.
"To the greatest fans in the world. We're about to embark on the Avengers: Infinity War press tour.
"We will be visiting fans all over the world screening only a limited amount of selected footage from the film in order to avoid spoiling the story for future viewers," they wrote.
"We will not screen the film in its entirety until the Los Angeles premiere shortly before the film's global release.
"Everyone involved with the film has worked incredibly hard for the past two years maintaining the highest level of secrecy.
"Only a handful of people know the film's true plot.
"We're asking that when you see Infinity War, in the coming months, that you maintain the same level of secrecy so that all fans can have an equal experience when they watch it for the first time. Don't spoil it for others, the same way you wouldn't want it spoiled for you.
"Good luck and happy viewing."
Infinity War is the third Avengers film in the Marvel Cinematic Universe.
Its stars include Chris Hemsworth, Mark Ruffalo, Chris Evans, Scarlett Johansson, Benedict Cumberbatch, Chadwick Boseman, Paul Bettany and Chris Pratt.
Robert Downey Jr., who plays Iron Man, and Tom Holland, who plays Spider-Man in the film, have both tweeted #ThanosDemandsYourSilence.
Plenty of fans are joining their call.
But others are joking that Tom will have a tough time keeping the secrets himself.
Follow Newsbeat on Instagram, Facebook and Twitter.
Listen to Newsbeat live at 12:45 and 17:45 every weekday on BBC Radio 1 and 1Xtra - if you miss us you can listen back here.