Cardi B's bum implant leaked for five days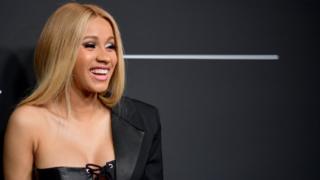 Cardi B has revealed she had filler injected into her bum in a basement in New York and it leaked for five days afterwards.
In an interview with GQ, she said she paid $800 (£564) for the procedure after seeing her stripper colleagues with bigger bums earning more than her.
"They don't numb your ass with anything," she went on to say.
"It was the craziest pain ever. I felt like I was gonna pass out. I felt a little dizzy."
In the interview, the 25-year-old rapper said she didn't have enough meat on her body to have liposuction.
So she went and had filler injected into her bum "in a basement apartment in Queens".
When she went back for a top-up, she claims the lady who gave her the injections was "locked up" after someone died on her table.
Cardi said she wanted to change her body after she noticed her stripper colleagues with a bigger bum were earning more - regardless of how good they were at dancing.
And she had a boyfriend which cheated on her with a woman who "had a fat, big ass".
Injecting liquid silicone into the body is banned in the US and many other countries.
It can cause major complications such as scarring and infections - which can lead to death.
In 2011, Claudia Seye Aderotimi, 20, died in hospital in Pennsylvania after an injection of silicone into her bum.
Cardi, who initially became known on Instagram and reality TV, signed to Atlantic Records in 2016.
During the interview, she spoke about her insecurities about her accent when performing and the pressure she feels from her fame.
"I feel like I'm not in control of my life.
"I'm the artist, but I don't feel like I have a higher position than anybody that's working for me.
"If I don't want to work tomorrow, I cannot just stop working, because then, how's other people gonna feed their family? It is a lot of pressure."
Follow Newsbeat on Instagram, Facebook and Twitter.
Listen to Newsbeat live at 12:45 and 17:45 every weekday on BBC Radio 1 and 1Xtra - if you miss us you can listen back here.