No female WWE wrestlers at Saudi Arabia show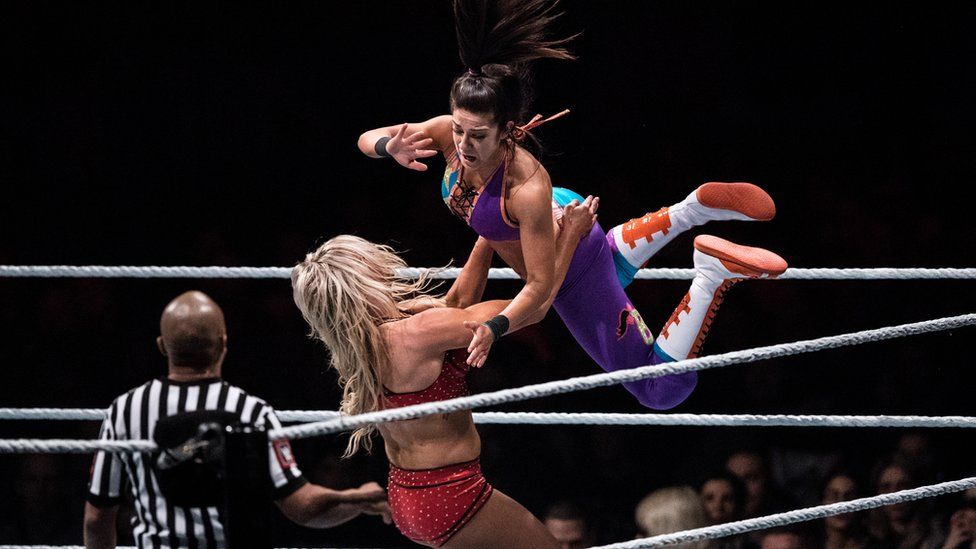 WWE has been criticised for not having any female wrestlers in its Saudi Arabia show.
The Greatest Royal Rumble event is one of the largest of its kind with 50 men in the headline match.
No women will be taking part, despite WWE being commended by many for their development of women in the sport.
In the 30 years that the Rumble has been around there has been a move to see female wrestlers like Charlotte Flair headline shows.
Women once only had passive roles but have become much more well respected wrestlers.
The change has been dubbed the "Women's Evolution".
So the revelation of no women in the Saudi show is a stark contrast to what fans of the wrestling giant have come to expect.
I'm so disgusted with @WWE And they're going over to Saudi Arabia where women are being oppressed to have Greatest Royal rumble ever 😐 and there are no women's matches in the time all the women's revolution, it's sickens me to my core

— Suplex_city_Diva (@SuplexDiva101) April 24, 2018
Honestly, WWE chose money over their phenomenal women superstars. I'm hyped about #WWEGRR event but #SaudiArabia's discrimination against women MUST END! Women ARE NOT inadequate to men. They are equal & they deserve to have the same rights everywhere because they're human beings

— BalorClubForEveryone ❤️🧡💛💚💙💜 (@_PhenomenalOne) April 24, 2018
Women in the country are still restricted by laws on what they can and can't do - so it may not come as a surprise to other fans that females aren't in the line-up.
Speaking to The Independent newspaper, company executive and performer Triple H says that he hopes that women will be taking part in the next few years.
"You can't dictate to a country or a religion about how they handle things but, having said that, WWE is at the forefront of a women's evolution in the world and what you can't do is affect change anywhere by staying away from it.
"While, right now, women are not competing in the event, we have had discussions about that and we believe and hope that, in the next few years they will be.
"The country is in the middle of a shift in how it is dealing with that - the position is changing, and rights are changing, as are the way women are handled and treated in society.
"We think that's a great thing and we're excited to be at the forefront of that change."
The WWE says it's "committed to embracing and celebrating individuals from all backgrounds while at the same time we respect local customs at our events around the world."
There are still restrictions on women travelling without permission, or being accompanied, by a male guardian.
In addition to the lack of women taking part in the show, which takes place in Jeddah on Friday, females will only be allowed to watch in the stadium if they are accompanied by their partners.