Meek Mill doesn't 'feel free' following release from prison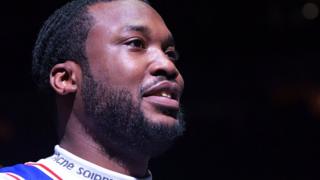 Meek Mill still "doesn't feel free" following his release from prison, he has revealed in his first interview.
He also said he feels "responsibility" for others facing similar battles with the justice system.
The rapper told Lester Holt from NBC Nightly News: "I haven't felt free since I caught this case at 19 and I am 30 now."
Meek Mill was released earlier this week after serving five months of a potential four-year sentence.
It was following a high profile campaign to free him backed by the likes of Jay-Z and comedian Kevin Hart.
Meek was arrested in March 2017 after a fight in an airport and again in August for reckless driving,
Although those charges were dropped, in November of the same year he was sentenced to two to four years in jail.
A judge said both arrests were a breach of his probation.
He was put on probation following a 2008 conviction for drug dealing and weapon charges.
"I haven't slept one minute since I been out of prison," the rapper said.
"It's actually like a culture shock, coming from a small cell back into the real world so I don't think my body has adjusted yet."
Meek Mill's case has been the subject of much discussion about the US justice system.
Campaigners and his supporters felt that the two to four year sentence was harsh and suggested it may have been down to the fact he's black.
"I believe God is my first lawyer and I always believe that. I got a lot of support, a lot of light has been shed in my direction," Meek said.
The rapper could still face a retrial but says going forward he plans to stay out of trouble and fight for justice not just for himself - but others going through the same thing as him.
He said: "I got a lot of responsibility, there's a lot of important people depending on me, I am talking about the men going through the same things I am going through."
Shortly after being released, Meek Mill was picked up by a helicopter and escorted to a Philadelphia 76ers came.
The chopper belongs to the co-owner of the team, Michael Rubin.
Meek is from Philadelphia and the pair have become close friends.
Rubin said Meek's case is a sign changes are needed in the law to make sure people aren't still paying for mistakes they made more than a decade ago.
"His story is so much bigger than his life, this is about how can he be the symbolic agent or change needed for major criminal justice reform," Michael Rubin said.
Follow Newsbeat on Instagram, Facebook and Twitter.
Listen to Newsbeat live at 12:45 and 17:45 every weekday on BBC Radio 1 and 1Xtra - if you miss us you can listen back here.