Data protection: Why you're getting so many emails about privacy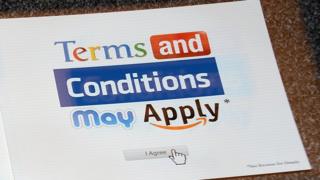 You'd be forgiven for thinking the privacy emails you've been getting are all because of the recent Facebook scandal - but you'd be wrong.
From Twitter to Airbnb, your favourite musicians to the football club you support - you may have noticed they've all been emailing you.
The reason is because there's a new European law on its way.
The General Data Protection Regulation (GDPR) was going to happen before Cambridge Analytica was in the news.
Why am I getting these emails?
Every mailing list you've signed up to, online shop you've bought from, social media website you're part of, probably all store your information.
It doesn't mean they've done anything with your details that they shouldn't have.
But these new rules, which replace the Data Protection Act 1998, are designed to give you, the customer, better control over who has that data.
These emails are essentially telling you that they've rewritten their terms and conditions.
What's changing?
Those long terms and conditions documents that most people click past because they are really long and full of jargon will need to be written in language that's easy to understand.
You, as the customer, must also specifically 'opt in' to sharing your data and can ask for it to be removed at any time.
There's lots of information here if you want to know more.
But I did get an email from Facebook. What's that about?
That's because, just like all the other companies, Facebook has updated its documents to abide by the new law.
It has also made many more changes in the wake of the Cambridge Analytica scandal.
But even if all this hadn't happened you'd probably still have received an email from Facebook about the new rules.
Do I need to do anything?
Not specifically.
It's worth being aware of which businesses hold information about you and all these emails will help to do that.
And it does provide you with a great opportunity to remove yourself from any mailing lists that you're no longer interested in.
Don't remember signing up for news about artisan cheese seven years ago? Now's a good moment to say goodbye.
What if I don't want these companies to have my data?
You may have heard of the 'right to be forgotten' and this is all about your data.
Anyone can ask for their personal data to be deleted at any time, if it's no longer relevant.
You can also contact companies to find out what information they have about you - including how they got it and what it's used for.
Follow Newsbeat on Instagram, Facebook and Twitter.
Listen to Newsbeat live at 12:45 and 17:45 every weekday on BBC Radio 1 and 1Xtra - if you miss us you can listen back here.