Trixie Mattel: RuPaul's Drag Race was 'gay people's best kept secret'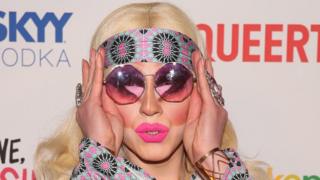 Like so many fans of RuPaul's Drag Race, Trixie Mattel still doesn't have a clear favourite from the latest season of the show.
"I love Miz Cracker. I love Monet X Change. But I also love Monique Heart's yelling. I can't choose."
For the uninitiated, Trixie is one of the most successful queens who's ever appeared on the show.
She's a firm fan favourite who's released two albums and stars in her own TV show.
"I didn't start drag because I thought it would be a ticket to anything," she says.
"I did it for my own narcissistic fulfilment. When I started selling records, going on tour, doing TV... I never expected any of it."
Trixie is the drag persona of Brian Firkus, who initially dreamed of a straightforward music career but "could barely get a gig" back home in Wisconsin.
"Out of drag I'm a white guy with a guitar, which isn't special. There are a million white guys with guitars. But being a drag queen with a guitar is a lot more commanding."
There have been two Trixie Mattel EPs so far - Two Birds and One Stone - which draw on Brian's love of folk Americana and country.
"I don't really like club music or hip hop or electronic music at all. I'm like an old person."
She recently won the third season of RuPaul's Drag Race All Stars, and understands how the show, now streamed on Netflix in the UK, has gone from niche, cult viewing to a bona fide mainstream hit.
"For years, Drag Race was gay people's best kept secret. When I started doing drag, people didn't know anything about it. Look at it now, it's like it's gone from black and white to IMAX."
For anyone who's seen her live shows, they'll agree with Trixie's description that her humour is "dry and dark".
She also hosts Viceland's Trixie and Katya Show (with fellow Drag Race alumni Katya Zamolodchikova), a programme born out of her successful YouTube series UNHhhh.
Katya's currently taking a break, so Trixie is presenting the show with Drag Race season eight winner Bob The Drag Queen.
"We pull together a look and we choose the topics," she explains. "But most of the show is improv comedy so we don't have to write anything beforehand. We just show up."
Trixie says she dedicates "her entire life" to drag and is embarking on a huge tour of the United States where she'll mix the comedy and the music.
"I tell jokes which I think are hilarious and I wear beautiful Barbie looks and that combination works for people. I do drag every single day. so I'm glad it's working so far.
"Being Trixie Mattel and to be part of this kingdom... no wait, this queendom... is cool. For a lot of us, drag is the most important thing we'll ever do with our lives and it's cool to watch the ripple effect."
Follow Newsbeat on Instagram, Facebook and Twitter.
Listen to Newsbeat live at 12:45 and 17:45 every weekday on BBC Radio 1 and 1Xtra - if you miss us you can listen back here.