Afrofuturism: Why black science fiction 'can't be ignored'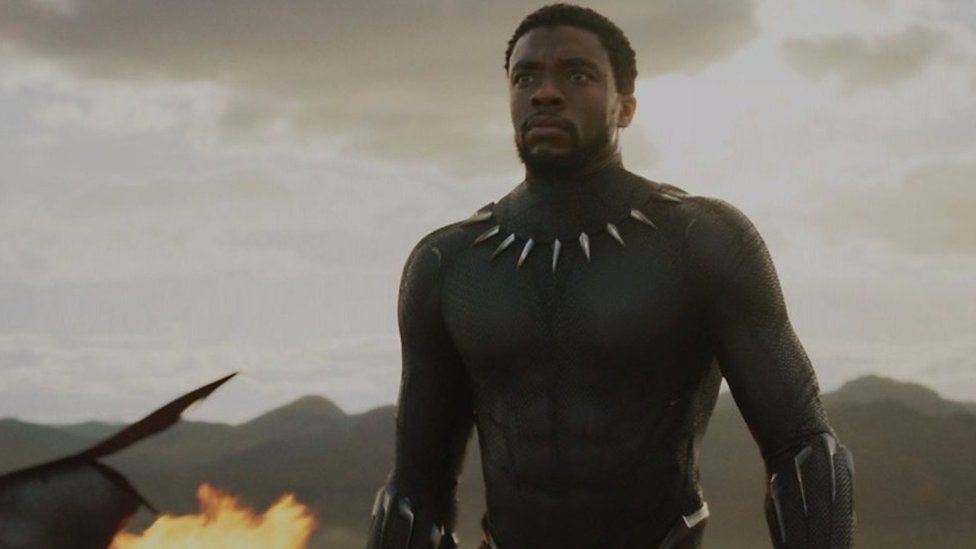 Science fiction has long been criticised for its lack of racial diversity and inclusion.
It's rare to see a lead character who isn't white.
One study of the top 100 highest-grossing films in the US showed that just eight of those 100 movies had a non-white protagonist, as of 2014.
Six of those eight were Will Smith, according to diversity-focused book publisher Lee and Low Books.
The long-term exclusion of people of colour from science fiction offers up an interesting paradox.
How can a genre that imagines a future of infinite possibilities be seemingly unable to imagine a future where black people exist - or at least have any relevance?
Herein lies the power (and importance) of afrofuturism, and while you may not have heard of the term, there's a good chance you've been introduced to it already.
Janelle Monáe and Dirty Computer: An Emotion Picture
Afrofuturism is perhaps best summed up by the queen of contemporary afrofuturism herself — Janelle Monae.
Her futuristic music videos and radical aesthetic (she even calls her fans "fAndroids") are seen by some as a key force for pushing afrofuturism into the mainstream.
"Afrofuturism is me, us... is black people seeing ourselves in the future," she explains in a 30-second video clip for Spotify.
It is no surprise then that Janelle cites the movement as the inspiration for her new narrative film, Dirty Computer: Emotion Picture, a visual accompaniment to her latest album (which is currently trending on YouTube).
"I was writing this music that was really inspired by science fiction and afrofuturism," she told BBC Radio 1 in March.
"Telling these stories through the lens of a young black woman and speaking of a future where we're included, we're not the minority, but we're the heroines, we're the leaders, we're the heroes... I felt like I had a responsibility to [do] that."
The 44-minute film, starring and produced by Janelle, tells the story of Jane 57821, a woman who's on the run from a totalitarian government that seeks to scrape her memories.
The film features minority groups who are under threat - including people of colour and LGBTQ individuals.
Co-director of Dirty Computer Andrew Donoho told Newsbeat that viewers can expect to see a film that pulls inspiration from a long list of sci-films through the lens of afrofuturism.
"The entire project was about exploring the sci-fi landscape that we all knew and loved so much, while injecting Jane's commentary about race, sexuality, and the future of black culture.
"We wanted a true sci-film that properly represented the black and LGBTQ community in a way that was honest - something rare in Hollywood," he added.
The term "afrofuturism" was originally coined and defined by cultural critic Mark Derry in a 1993 essay entitled "Black to the Future", although the idea has existed for much longer.
Missy Elliott, Janet Jackson, TLC, and Solange Knowles have all been credited with exploring the movement, but one of its most famous contributors to the genre is the musician and poet Sun Ra.
Regarded as a pioneer of afrofuturism with more than 1,000 recorded songs spanning more than 100 albums, he is particularly well-known for telling his own fictional origin story - that he was an alien who'd come to Earth from Saturn, sent on a mission to preach peace and speak through music.
During his career, Sun Ra and his band (the Arkestra) went on a 25-year-long tour performing and selling their music. The band continues to perform following the death of Sun Ra in 1993.
Aside from music and film however, afrofuturism also incorporates literature and art, combining them with science fiction, history, and fantasy.
Afrofuturism can be split two simple questions: "Who are we?" and "What is true about the world?" according to Steven Barnes, a professional science fiction writer and lecturer on the topic.
"It is just our perspective on the question of how did we get here, what's going on, and what's the future going to be like? Which are the basic questions that you find answered through science fiction.
"Afrofuturism, then, would be the science fiction, fantasy and horror created by or featuring the children of the African diaspora (people of African origin living outside of the continent)."
Movement to mainstream and Black Panther
Afrofuturism has more recently soared to commercial success with the release and critical acclaim of Black Panther.
The blockbuster movie broke several records, including highest-grossing film of 2018, third-highest-grossing film in the United States, and 10th-highest-grossing film of all time. It features an afrofuturistic superhero in a world where black people have the most advanced technology on Earth.
"That is afrofuturism at its best," Steven told Newsbeat.
"You have something that deals with our past, our future, our present, our spirituality, our ability to love, to wield power, connections to family and language, and on and on and on and on."
"This is what I've been waiting for since I was child," he added.
Contrary to science fiction's predominantly white history, the depiction of Black Panther on screen seems to have been exactly what the rest of the world had been waiting for too.
Congrats to the entire #blackpanther team! Because of you, young people will finally see superheroes that look like them on the big screen. I loved this movie and I know it will inspire people of all backgrounds to dig deep and find the courage to be heroes of their own stories.

— Michelle Obama (@MichelleObama) February 19, 2018
One of the best things you can do for yourself and/or the ones you love is purchase some #BlackPanther tix. I know it's expensive to go to the theater, but its worth it for this one. You will exit forever impacted.

— Brie Larson (@brielarson) February 16, 2018
As the highest-grossing movie directed by a black filmmaker in North America, Black Panther's success (and 96% rating on Rotten Tomatoes) is indicative of a wider point about afrofuturism's appeal, and the desire for these stories to be told more broadly.
So why is afrofuturism important?
The genre's importance in part comes from its ability to connect people of African descent not only to their origins, but to each other.
King Britt, a composer, producer and DJ, had been working on music before the term afrofuturism existed - but upon its conception he was surprised to find other people just like him.
"When the term and movement came to light, I was like, 'Oh wow, there are other black nerd kids like me who like sci-fi and want to change the future to include us more'.
"It was a form of escapism to think this way," he added.
Steven Barnes, who teaches the subject, argues that afrofuturism's necessity comes from science fiction's history of excluding black people.
"You could have a movie where worlds collide and they build spaceships to save the world... and all the people on the spaceships are white," he told Newsbeat.
"The filmmakers didn't even question this, we literally don't exist in their fantasies. Now the situation is a lot better in a lot of ways."
Afrofuturism may not be able to rectify an entire history of exclusion, but its impact, born of its attempts to answer important questions, is something that can't be ignored.
"This is why we're having this conversation," Steven said.
"The world is actually interested in the question."