Rihanna opens up about her relationship with Drake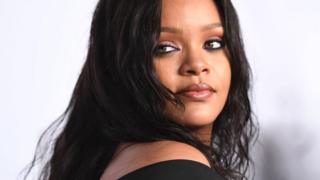 Rihanna's has revealed she no longer has a friendship with Drake.
It came as she addressed the time when the rapper publicly declared he was "in love with" her on stage at the MTV Video Music Awards in 2016.
Rihanna told Vogue magazine waiting through his speech was "probably the most uncomfortable part" of the experience.
She added: "We don't have a friendship now, but we're not enemies either. It is what it is."
Drake presented the singer with the Michael Jackson Video Vanguard award at the ceremony two years ago.
In a gushing speech, he told the audience: "She's someone I've been in love with since I was 22 years old, she's one of my best friends in the world."
Rihanna appeared to look embarrassed as Drake spoke and reflecting on what happened she told Vogue: "Waiting through that speech was probably the most uncomfortable part.
"I don't like too many compliments, I don't like to be put on blast."
It's not the first time there's been speculation about their friendship.
They've collaborated musically over the years on tracks including What's My Name in October 2010, Take Care in 2011 and Work in 2016.
But many fans have always wondered if they've ever been more than just friends.
Drake told Ellen DeGeneres back in 2013 that he and Rihanna had had their "moment" and later told Rolling Stone magazine she was his "ultimate fantasy".
While Rihanna has always insisted they're "just friends".
The singer also told Vogue she's gearing up for one of the most productive periods of her career.
The blockbuster movie Ocean's 8 is released this month in which she plays Nine Ball - a street-smart hacker in an all-female crew of bandits.
Rihanna is also focusing on the launch of her make-up brand Fenty Beauty in collaboration with Kendo and her new line of lingerie, Savage X Fenty.
She says both carry a body positive message.
"I accept all of the bodies. I'm not built like a Victoria's Secret girl, and I still feel very beautiful and confident."
Follow Newsbeat on Instagram, Facebook and Twitter.
Listen to Newsbeat live at 12:45 and 17:45 every weekday on BBC Radio 1 and 1Xtra - if you miss us you can listen back here.