50 Cent: Spotify 'wrong' to remove R Kelly from playlists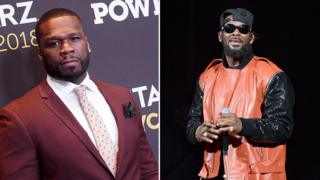 50 Cent has defended R Kelly after Spotify announced it was removing the singer from its playlists.
"Spotify is wrong for what it is doing to artists like R Kelly and XXXtentacion," the rapper wrote on Twitter.
R Kelly was removed as part of the streaming service's new "Hate Content & Hateful Conduct" policy, having been accused of sexual assault on multiple occasions.
The 51-year-old denies the claims.
Rapper Xxxtentacion is currently facing charges in Florida - which include aggravated battery of a pregnant woman. He denies the allegations.
Both artists' music will be removed from all Spotify-owned and operated playlists and recommendations.
R Kelly responded to 50 Cent's post saying: "Thanks for the support fam! No weapon formed."
The singer makes a reference to a quote from the Bible that reads: "No weapon formed against you shall prosper."
Users of Spotify will still be able to find the R&B singer's music, but the streaming service will no longer actively promote it.
His music will be removed from all Spotify-owned and operated playlists and recommendations.
R Kelly was recently at the centre of the #MuteRKelly campaign which calls for the singer to be boycotted after years of allegations.
The hashtag was coined by Kinyette Tisha Barnes and co-founded by Oronike Odeleye, who organised protests to get the musician's concerts cancelled.
A recent BBC Three documentary, R Kelly: Sex, Girls and Videotapes, sees filmmaker Ben Zand try to break down the alleged "wall of silence" around historical sexual abuse allegations involving the singer.
In a statement published on Variety, the rapper's management said: "R. Kelly never has been accused of hate, and the lyrics he writes express love and desire.
"Mr Kelly for 30 years has sung songs about his love and passion for women.
"He is innocent of the false and hurtful accusations in the ongoing smear campaign against him, waged by enemies seeking a payoff.
"He never has been convicted of a crime, nor does he have any pending criminal charges against him."
Aishah White, a spokeswoman for XXXTentacion, told the New York Times via email: "I don't have a comment, just a question. Will Spotify remove all the artists listed below from playlists?"
She included the names of several musicians who have also faced allegations of sexual misconduct or violence over the years.
Follow Newsbeat on Instagram, Facebook and Twitter.
Listen to Newsbeat live at 12:45 and 17:45 every weekday on BBC Radio 1 and 1Xtra - if you miss us you can listen back here.