Royal wedding: Who else could walk Meghan Markle down the aisle?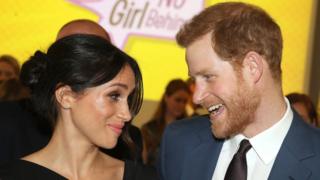 It's one of the last things a bride needs on the week of her wedding: you find out your dad won't be able to attend.
Meghan Markle has confirmed that her father Thomas won't make her and Prince Harry's big day on Saturday.
He's in Mexico recovering from heart surgery.
Meghan said in statement: "I have always cared for my father and hope he can be given the space he needs to focus on his health".
Thomas was due to walk Meghan down the aisle. So who could do the job in his place?
The mother of the bride
The bride's mum Doria Ragland will be staying with her daughter at Cliveden House Hotel the night before the wedding and is accompanying her daughter to the church on the morning of Saturday 19 May.
Could she go one step further and walk her down the aisle?
It's an option that many brides-to-be are opting for out of choice. Traditionally, a father walking his daughter down the aisle is a symbol of her being "given away" to her future husband and some say the idea implies that the bride is her dad's property.
The tradition comes from a time when marriage was as much a financial contract between two families as a symbol of commitment and love between two people, and although that's rarely the case now, some women are opting to reject the association.
Doria is close to Harry and Meghan - Prince Harry said she was "amazing" during a BBC interview on the occasion of their engagement - and Meghan has spoken fondly of their close bond during previous interviews.
Meghan's mum also joined the couple for the Invictus Games closing ceremony in September 2017.
Although it would be a break from tradition, a mum has walked the bride down the aisle at a royal wedding before - and not just any mum.
Queen Victoria fulfilled the traditionally male role for two of her daughters - Princess Helena in 1866 and Princess Beatrice in 1885 - following the death of her husband Prince Albert.
And if Britain's self-proclaimed etiquette expert and former butler to Prince Charles thinks it's okay, then it's probably an option worth considering.
Prince Harry, the future husband
Another way for brides to break from tradition is to walk down the aisle with a man who isn't their father - namely, their future husband.
Some couples see it as their way of showing a united front from the outset and a way to sidestep any potentially awkward symbolism.
Meghan Markle has previously referred to her and her future husband as a "team" and walking down the aisle together could be a further declaration of their commitment to presenting a united front.
Wendell Pierce, the on-screen dad
Meghan Markle has already walked down the aisle this year - on our television screens.
In the season seven finale of American TV show Suits, Meghan's character Rachel Zane squeezed in a wedding at short-notice to her long-term boyfriend Mike Ross before the couple moved to Seattle.
Rachel's father Robert Zane walked her down the aisle, so actor Wendell Pierce has had some practice.
Robert Zane has been a key figure in Suits. As a powerful lawyer at one of New York's biggest law firms, Rachel made every effort to carve out her own role outside of his shadow.
However in later series, the pair worked together and he walked her down the aisle for her on-screen wedding.
It's unknown whether Wendell is among the Suits stars invited to the wedding.
But if he's already in London, we're sure he could be persuaded to stand in at short notice.
Guy, the pet beagle
Meghan Markle's love for her dogs is well documented and it's a passion she shares with her grandmother-in-law to be - the Queen.
Could she decide to take her beagle rescue dog Guy for a walk down the aisle on Saturday?
Including dogs in your wedding day is part of a wider trend, according to Inside Weddings, and photos that Meghan previously posted online show Guy in a knitted union flag jumper, so he might be persuaded to wear a themed outfit and be on his best behaviour.
Meghan Markle
Let's face it, weddings are supposed to be the happiest day of the bride and groom's lives, but they are often stressful affairs, filled with anxiety about everything from wilting flowers to drunken relatives.
So why doesn't Meghan remove another element of stress - and scrutiny - and just walk down the aisle herself?
It worked for Zoe Cartner-Mackay: "For me it just felt right that I would walk myself - I wasn't being given away."
Follow Newsbeat on Instagram, Facebook and Twitter.
Listen to Newsbeat live at 12:45 and 17:45 every weekday on BBC Radio 1 and 1Xtra - if you miss us you can listen back here.