How I found out about my England call-up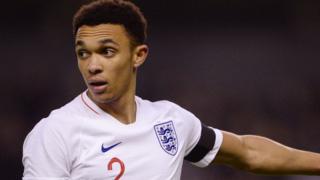 It's the moment your whole career has been leading up to.
From kicking, throwing or batting a ball around in the park as a kid to your first professional game, you've always dared to dream.
That one day, just maybe, you might get that phone call. A call-up to the national team.
But it's not always on the phone. Some of England's top sportsmen have found out about that career-defining moment in unusual ways.
"It was an unbelievable moment to find out I was going to go to the World Cup, especially at a young age."
Trent Alexander-Arnold has enjoyed a breakthrough season in a Liverpool shirt and looks set to finish it with a Champions League final.
He's been backed by Reds' manager Jurgen Klopp and told the Liverpool website it was his club, not country manager who broke the big news.
'No holidays or anything…'
Jurgen Klopp took him to one side just as they were getting on a plane to Marbella for a training camp - and asked if he had anything planned around the time of the World Cup.
"I was like 'No, no holidays or anything'.
"He said to me 'OK, good, you're in the squad!'
"It was a really proud moment. On England's behalf, it was nice of them to let the manager tell me."
'It just came up on TV'
Swansea City striker Tammy Abraham may not have made the World Cup squad, but the 20-year-old did get the nod last November.
He was a surprise pick for two international friendlies - and found out the news on TV, just like the England fans.
"I found out on Sky Sports.
"I was in the physio room and it just came up on the TV. It was a nice surprise!"
'I was thinking of finishing the argument first'
The surprises don't just happen in football though.
For Dominic Bess, the news came through while the Somerset off-spinner was arguing over furniture.
"I was in Ikea with my girlfriend and we were actually arguing over a sofa - so the call couldn't have come at a better time," Dom told BBC Radio 5 live.
"England selector Ed Smith rang me.
"I didn't have his number and I was thinking of finishing the argument first and then moving on to the phone call. But my girlfriend said to pick it up as it could be England."
And the news can come from someone a little closer to home.
'What are you talking about Mum?'
Denny Solomona declared himself available for England selection last year after completing the required three years of residency.
But while he didn't keep a close eye on the first squad announcement, someone else certainly did.
"I think it was my mum who text me first," Denny told the BBC.
"She said 'Congratulations' and I said 'What are you talking about?'"
Denny's Mum told him to check his Twitter page. Only then did it become clear what had happened.
"It just went from there. I was quite excited, actually."
Follow Newsbeat on Instagram, Facebook and Twitter.
Listen to Newsbeat live at 12:45 and 17:45 every weekday on BBC Radio 1 and 1Xtra - if you miss us you can listen back here.