Billboard Awards 2018: Kelly Clarkson's plea over Texas school shooting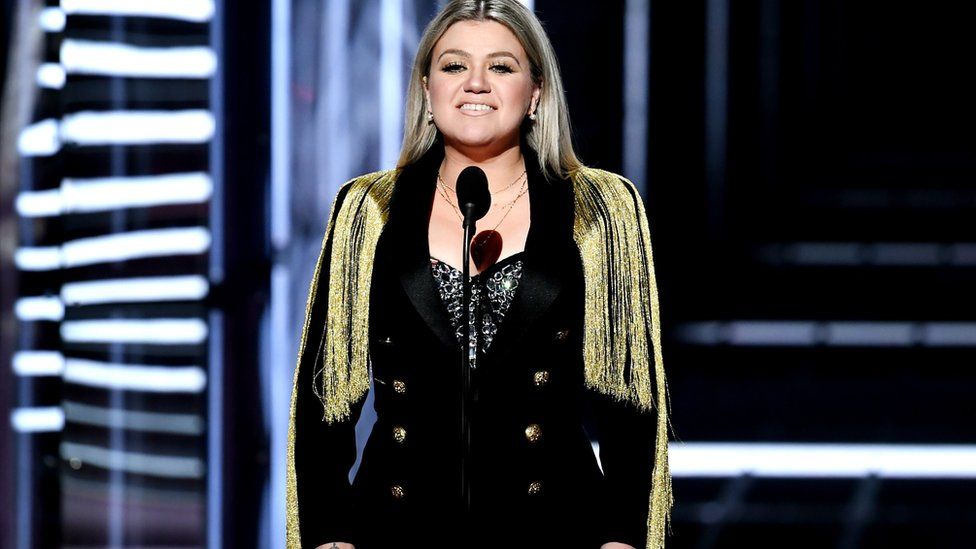 Kelly Clarkson made an emotional plea over the school shooting in Texas, while hosting the Billboard Awards in Las Vegas.
Ten people died on Friday at Santa Fe High School after 17-year-old Dimitrios Pagourtzis allegedly opened fire on classmates.
"I'm so sick of moments of silence. It's not working," she said.
"Why don't we not do a moment of silence? Why don't we do a moment of action? A moment of change?"
Having to compose herself on multiple occasions, she continued: "Once again we are grieving for more kids that have died for just absolutely no reason at all."
The BBC is not responsible for the content of external sites.
It wasn't the only time that American school shootings were referenced during the show.
The Marjory Stoneman Douglas High School show choir later joined Shawn Mendes and Khalid on stage.
They performed the song Youth, which has the chorus: "You can't take my youth away."
The BBC is not responsible for the content of external sites.
When it came to the actual awards, Ed Sheeran was the big winner.
The singer took home four awards - top artist, top radio songs artist, top song sales artist and top hot 100.
Andrew Taggart from The Chainsmokers said the DJ's death was "a great loss for the music world and for us".
"He was an artist who inspired so many in so many ways and simply put he meant so much to us and so many in the EDM community."
Halsey added: "Everyone who worked with him would agree he was such a joy and it makes this tragedy all the more painful.
"And it's a reminder to all of us to be there and to support and love all of our friends and family members who may be struggling with mental health issues."
The annual awards show, which celebrates artists' achievements on the Billboard charts in the US, had a performance from Ariana Grande.
The BBC is not responsible for the content of external sites.
Other winners included Taylor Swift, who won top female artist, and Camila Cabello, who scooped the Billboard chart achievement award.
Khalid won top new artist, Taylor Swift won top selling album for reputation and Kendrick Lamar was named top streaming artist.