What non-league footballers do at the end of the season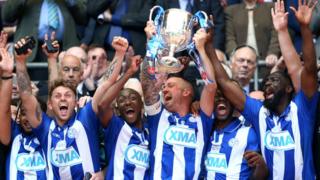 For most players in the Premier League, the end of the season means luxurious holidays and a well-deserved break from top flight football.
But for many non-league players, summer just means going back to work.
"It doesn't stop for us unfortunately," Thatcham Town's Jemel Johnson tells Newsbeat.
The semi-professional side won the FA Vase final at the weekend, beating Stockton Town 1-0.
Finals day acts as the last day of the season for all non-league sides.
And lining up alongside Jemel for Thatcham were carpenters, roofers, decorators, gardeners, warehouse managers and even an RAF engineer.
Jemel himself is a private banker at Coutts in Reading - and says it was a "crazy feeling" to win at Wembley.
"The ideal thing to do would be to hop on a plane, go on a lavish holiday and really enjoy it," he says.
Instead he had a few beers, then back to work on Monday for a "meeting with my manager to talk about targets".
"It really is back to business in the summer for me and a lot of non-league players."
The 31-year-old striker tells Newsbeat the financial rewards aren't exactly huge.
"It's a non-league footballer's dream to play football full-time but unfortunately that's not the real world.
"We don't play football for the money, we play for the moments really."
And those moments don't get much better than winning at Wembley.
"There will be a lot of Premier League players that will never get the chance to play and win a cup final at Wembley.
"But us little part-timers from Thatcham in Berkshire have achieved it, so it's great for us."
In the day's other final, Brackley Town's Shane Byrne helped his team to win the FA Trophy by beating Bromley 5-4 penalties.
Shane's had a day to savour the victory but is then straight back to work as a bricklayer's labourer.
And that's a tricky juggling act with football.
"It's quite tough to do the sort of manual labour I do - 40 hours a week.
"But I've managed it well this year. I won't lie though, some days I'm absolutely exhausted."
And like at Thatcham, the players are a varied bunch.
"Our skipper is a lead design engineer at Jaguar Land Rover.
"One of the lads is a teacher. Others work in retail, care and a couple have their own businesses.
"My plans for the summer are really to try and rest and recover as best I can whilst working. Although it's off-season it's still a very busy period."
Follow Newsbeat on Instagram, Facebook and Twitter.
Listen to Newsbeat live at 12:45 and 17:45 every weekday on BBC Radio 1 and 1Xtra - if you miss us you can listen back here.