Kendrick Lamar stops white fan using N-word on stage at concert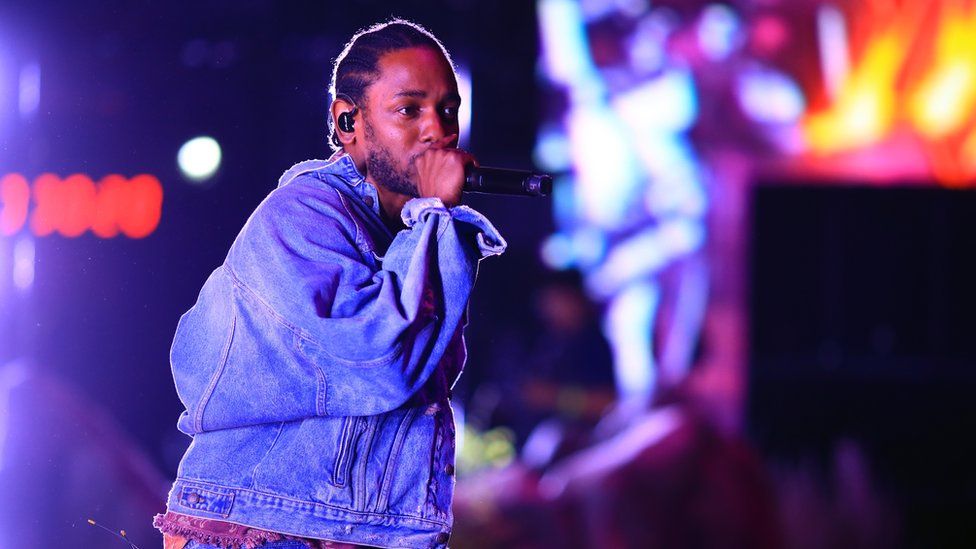 A white woman has been booed at a Kendrick Lamar gig for singing the N-word on stage.
The rapper invited the woman, who identified herself only as "Delaney", to sing M.A.A.D City during his set at the Hangout Festival in Alabama.
But Kendrick stopped her after she repeatedly used the N-word - which is heard multiple times in his song.
As the crowd reacted angrily, Kendrick told her: "You gotta bleep one single word."
She appeared not to realise why she had been stopped, and asked: "Am I not cool enough for you, bro?"
The crowd in Gulf Shores, Alabama started booing on hearing the woman sing the racial slur.
She apologised, saying: "Oh I'm sorry, did I do it?"
Kendrick then asked the audience if she should be given another try - and despite many shouting "No!", Kendrick allowed her a second run at the song.
Is it ever acceptable for white people to sing the N-word?
"Every person can say what they want, there's freedom of speech, but you have a responsibility," South London grime artist Yizzy tells BBC News.
"If you use the word... and you're not of any black heritage, in this modern day world, be prepared to face a backlash."
Journalist and blogger Jessica Noah Morley adds: "If you don't want people to sing an offensive word, it should not be sung or included in the song in the first place.
"We, myself included, have to be careful about being hypocritical and implementing a double standard when it comes to race relations. The N-word is, and will always be, offensive, no matter who says it."
Twitter user @alsostephenking said that Kendrick had been looking for fans who could rap along to his song M.A.A.D City - and that several people had been on stage before Delaney.
Rohan was one of them. He rapped the whole song to cheers from the crowd and omitted the N-word throughout.
The reaction to the response from Kendrick and the crowd has been mixed.
Some people said that expecting Delaney not to sing Kendrick's own lyrics back to him was unfair.
Kendrick Lamar stops his concert because the girl that he brought on stage to sing HIS song says all the lyrics & because she's white she's not supposed to say the N word that's in the song? Kendrick can take the L for that. Don't use the word if you don't want ur fans saying it.

— Versace Stoner (@JoeVargas) May 21, 2018
I'm confused by this Kendrick Lamar video tbh. The guy says the n word over and over in the majority of his songs. Calls a fan on stage to rap along to one of them and because she's white expects her to self censor? 🤔

I think he only stopped her because of the crowd reaction

— Ben Anderson (@IAmBenAnderson) May 21, 2018
However others agreed with Kendrick's decision to cut her off.
Honestly how did that girl at the Kendrick Lamar show think it was okay to use the N word? Even after he told her not to she was still gonna say it. I'm glad he cut her off after that.

— JJ🏳️‍🌈 (@caseyrebel13) May 22, 2018
Kendrick Lamar did the right thing.

— danny devito i'm your biggest fan!! (@cynthiacide) May 21, 2018
Kendrick Lamar was headlining the final day of the Hangout Festival.