Champions League Final: Liverpool fans offered free rooms in Kiev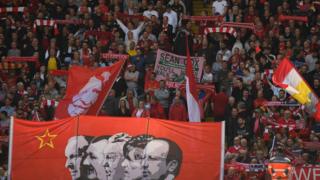 It's not difficult to find Victor Kylymar in central Kiev.
"I'm basically going to be based here 24 hours a day until all this is over," he says when we meet in Kontraktova Square before the Champions League final.
"I only live 100m away and work just round the corner."
We sit beneath the huge Ferris wheel put up, effectively in his back garden, for the estimated 250,000 tourists during their stay in the Ukrainian capital this weekend.
As soon as Victor and his brother realised Liverpool fans would be travelling to Kiev, they went online to see what accommodation was available.
"We were really shocked," he says.
"There were really very few places to stay and prices were sometimes 100 times higher than normal."
Victor says some hotels even started cancelling accommodation and re-advertising the rooms at inflated prices.
Fans have complained about rooms with a regular nightly rate of €51 (£44) going up to more than €6,000 (£5,261).
"That's why we decided to create a group for people from Ukraine to offer their spare rooms to visitors for free."
It's called Kyiv Free Couch.
The idea's simple. People with space to spare post what they've got available. Fans can then get in touch to book themselves in.
And, for a really authentic experience, some Ukrainians are also offering to be tour guides or to cook traditional meals for their guests, including a chicken Kiev supper, says Victor.
There are more than 8,000 people in the group already and Victor hopes it will offer visitors from all over the world an experience they'll never forget.
As you'd expect, Victor is one of those sharing his home for free with two guests, a dad and his son from Liverpool.
"If you don't have a ticket for the match, you must come and watch it here with us," insists Victor as we get up to leave.
He walks us to the busy metro station and in a final act of generosity, swipes us through the barrier using the contactless wallet on his phone to avoid the long queues at the ticket machine.
If any of the 4,000 visiting fans Victor says his group has already helped experience similar Ukrainian hospitality, it will definitely be a trip to remember.
Follow Newsbeat on Instagram, Facebook and Twitter.
Listen to Newsbeat live at 12:45 and 17:45 every weekday on BBC Radio 1 and 1Xtra - if you miss us you can listen back here.