Shout at Taylor Swift in Welsh: Swansea acts' guide to Biggest Weekend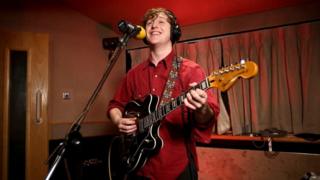 More than 50 acts and thousands of music fans are heading to Swansea's Singleton Park as part of BBC Music's Biggest Weekend.
Ed Sheeran, Sam Smith and Florence and the Machine are all on the line-up.
And, according to artists playing on the BBC Music Introducing stage finding local legend Bonnie Tyler's house, taking a romantic walk through the city and shouting at Taylor Swift in Welsh should also be priorities for anyone going.
Look for 'a guy with loads of cars'
Swansea-born singer-songwriter Rachel K Collier says the city is "buzzing" about the event.
"I've played in America, Berlin, India... all over the place recently. But I came home and it's all kicking off here. I don't need to go anywhere else.
"Introducing has been such a big platform for me, I feel honoured to be a part of it."
She's played at BBC Music Introducing showcases at SXSW in Texas and EDC in Amsterdam but says some of her favourite places are in her home town.
"Bonnie Tyler lives just down the road from me, her house is on the seafront," explains Rachel K Collier.
"It's a big house, she lives next to a guy who has loads of cars... so look out for that.
"You've got to check out the beach as well, it's beautiful and a really relaxing place to write music.
"There are loads of ice cream parlours too. Get vanilla, it might sound boring but they've really smashed the basics."
Shout I love you at Taylor Swift in Welsh
Cardiff's Dave Newington aka Boy Azooga, is looking forward to "shining a light on Welsh music".
"We're flattered to be a part of it, it feels like there are loads of exciting things going on with Welsh music at the moment."
Boy Azooga will be playing on the Introducing stage on Sunday evening.
They've had backing from Huw Stephens which helped them bag a recent slot on Jools Holland too.
"You can't underestimate radio play... I really don't think we would have got to Jools without that kind of support," he says.
He says the Gower Peninsula is "well worth a look" for anyone around for the weekend and says there's an easy way for fans to get involved.
"Rwy'n dy garu di is I love you in Welsh so if you're watching a Welsh band that you're really into shout that and they'll be made up.
"Taylor Swift might be there with a confused face on but Welsh people will like it."
'You can see all of Swansea'
Jack Jones, the frontman of Sunday night Introducing stage headliners Trampolene, was "born in the heart of Swansea".
"There are posters of Taylor Swift and Ed Sheeran and you think: 'Oh, they are actually coming,'" he says.
"There are even posters of us. With Introducing... It's pinch yourself stuff what we've been able to do."
The band's debut album, Swansea to Hornsey, follows their journey as a band getting out of their hometown.
"We used to play in a place which was pretty much where people would go and drink underage and not get caught by their parents but it's all progressed.
"Every time we go home it seems like there's a new Greggs and a new band to talk about. Maybe people got fed up with fishing and picked up guitars."
"There's a great street called Pantycelyn Road, when you go up there you get a view where you can see all of Swansea," he goes on.
"If you're being romantic you could take your girlfriend there... I've done that a few times and ended up with a slap across my face though so be careful.
"Also, on the Swansea sign you've got "ambition is critical"... it's pretty random, I don't get it.
"But when Ed Sheeran or George Ezra come in on the train they'll see that on the floor so I guess that's a good way to look at the weekend."
You can find out how to watch and listen on the official Biggest Weekend site.
Follow Newsbeat on Instagram, Facebook and Twitter.
Listen to Newsbeat live at 12:45 and 17:45 every weekday on BBC Radio 1 and 1Xtra - if you miss us you can listen back here.