Sir Richard Branson: Ditch diesel for electric cars before 2040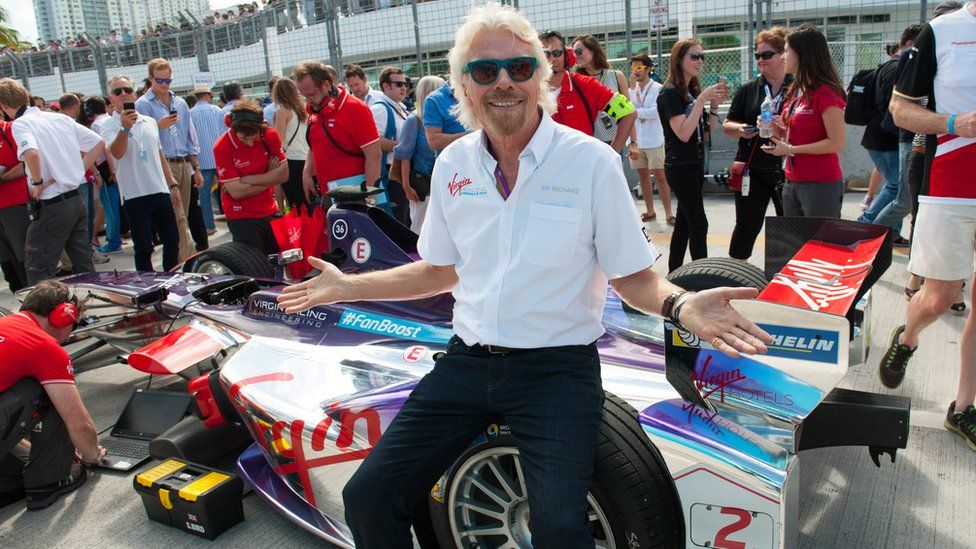 The Virgin founder funds a team in Formula E, the motorsport which is pioneering new technologies for electric cars.
He says the deadline should be brought forward to 2025, in line with some other European countries.
Roads minister Jesse Norman says 2040 is a "sensible compromise".
Newsbeat has spent the last seven months following Formula E, the competition where electric cars reach 140mph racing on streets around the world.
We've followed DS Virgin Racing, the team owned by Sir Richard, who says that "every month the technology is getting better and better".
"The teams want to be the best out there, so they're pushing for improvements in battery technology.
"That will mean that when more cars are driving on batteries, they'll be able to go hopefully a few hundred miles rather than maybe 150 or 200."
New petrol and diesel vehicles are due to be banned in the UK from 2040, the government announced in July 2017.
It's hoped the move will reduce air pollution.
Sir Richard believes 2025 should be the deadline, in line with countries including Norway and the Netherlands.
"I honestly think that we've got to bring everything forward because there are concerns that we could actually have sea levels rising by over 100ft if we lose a big chunk of the Antarctic.
"Therefore we've got to move the process of moving to clean energy quicker than most governments around the world are doing."
Manufacturers are also under pressure, which is one of the reasons why the likes of Audi, Jaguar and Renault have signed up to Formula E.
Mercedes-Benz and Porsche are set to join the Championship, which is one of a couple of big changes happening in the future.
"Next year we're going to double the amount of energy in our batteries - you're going to have twice the energy in the same box. That's a huge development," says Alejandro Agag, the Formula E CEO.
Drivers currently use two cars for Formula E races because of battery limitations - but as of next season they're down to one.
"That's going to be a very visible demonstration of how fast this technology is moving forward," Alejandro says.
But even though battery technology for electric cars is developing quickly, greater infrastructure is required if all new cars are to be electric in 22 years' time.
There are 32 million cars on Britain's roads and huge investment will be needed for them all to be charged.
AA president Edmund King says the length of time it takes to charge an electric car, compared to filling one up with petrol, is a real challenge.
"There is absolutely no way that we could have the infrastructure for 32 million cars being charged at the same time - so we'll have to change the way we think about fuelling our cars."
He says the majority of people will have to charge at home or at work.
"There are grants available to get home charging points installed, but it will still be a challenge in city and town centres and I think there we have to think of things like supermarket car parks or office car parks that could be used for charging infrastructure, particularly at night."
Roads minister Jesse Norman says that there won't immediately be 32 million electric cars on the streets, with only new cars required to be made electric.
But he says the government will be "encouraging people to phase older vehicles out as quickly as possible".
"If you look at it overall we're about as far advanced as almost any government in the world, so I don't think there's anything problematic about where we are and I look forward to seeing more progress in the years to come," he said.
There has so far been little detail about what the 2040 deadline means for drivers.
The government says more information on its plans is imminent.
You can watch Newsbeat's documentary Formula E: Driving Change on the BBC iPlayer now.