Brockhampton kick Ameer Vann out of group following allegations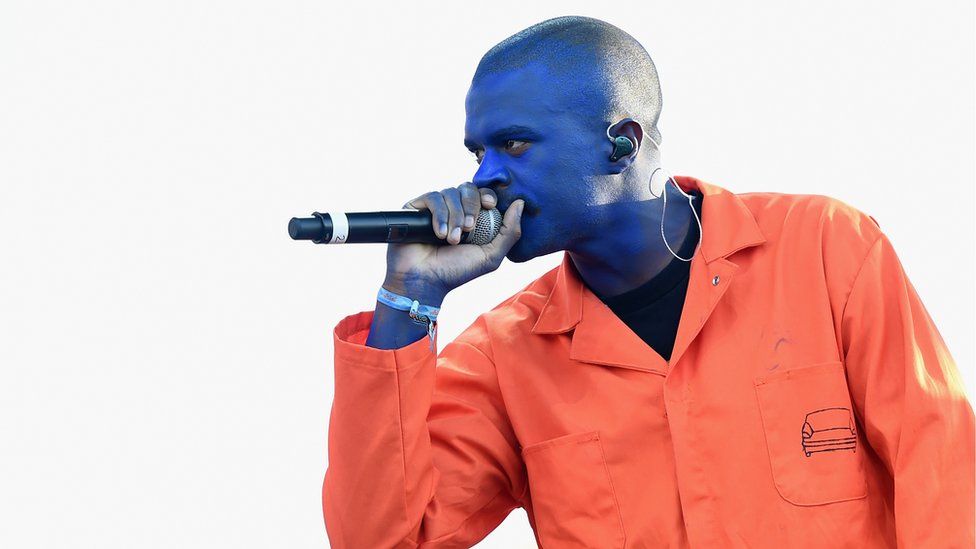 Brockhampton has kicked one of its founding members out of the group.
Ameer Vann "is no longer in" the band, according to a statement posted on Twitter, following allegations of sexual misconduct against him.
Brockhampton consisted of 14 people before Ameer's removal.
Members of the self-styled US "boyband" can be hard to keep up with, but Ameer was a constant on the three albums they released last year, featuring on each of the covers.
A number of women accused Ameer, 21, of being abusive earlier this month.
The rapper responded promptly - apologising to "the people I've hurt", as well as fans of Brockhampton.
"I've been in relationships where I've... disrespected my partners," he wrote.
"I've cheated and been dismissive to my exes. Throughout the past three years I've been working hard to reflect on myself and seek out help. It continues to be a learning process every day."
Ameer denied ever acting "criminally", and also rejected a claim of sexual relations with a minor.
In response to the claims of emotional and sexual abuse: although my behavior has been selfish, childish, and unkind, I have never criminally harmed anyone or disrespected their boundaries. I have never had relations with a minor or violated anybody's consent.

— ameervann (@AmeerVann) May 12, 2018
I'm sorry for cheating. I'm sorry for lying and letting my friends down. I'm sorry for placing my group mates in a difficult situation by not speaking to them about my past experiences earlier. I always hoped to set a good example to my fans.

— ameervann (@AmeerVann) May 12, 2018
He ended the statement by saying: "I really hope I can be an example of somebody who learned to grow from his mistakes and become a better person."
Brockhampton have been touring in the US but announced they would be cancelling any remaining dates to "go home and regroup".
"We were lied to, and we're sorry for not speaking up sooner," a statement said.
Lots about the group is purposefully mysterious.
Kevin Abstract helped form the current group in 2015, after posting on popular Kanye West forum KanyeToThe.com that he wanted to start a band.
It has existed in various forms, with different names, since 2010.
Their music covers serious topics like mental health, sexuality and masculinity, and they have garnered a cult following of very loyal fans.
Kevin Abstract and Ameer have been friends since high school, and video of Brockhampton's performance in Boston on Saturday night shows how the band is coping with their decision.
Ameer was absent from the show and the rest of the group stood silently during his verses, with Joba crying and needing to be consoled by Dom McLennon.
Kevin, the group's leader, addressed the allegations in an emotional Instagram live last week, admitting that new album Puppy, which was scheduled for release in June, was probably going to be delayed.
"Having to deal with family problems in front of the world is very difficult. And I'm sorry if this isn't enough," he said.
"I also understand if you're mad and completely over it because I should have said something. I shouldn't have been quiet for so long."
Fans have been divided over the decision to oust Ameer from the group.
Some think it was the wrong decision.
yo guys,

you're a group and you should deal with problems as a group. Not trying to hide them or kicking out a member.

i love you guys but Ameer didn't deserve this from his friends.

— Conguito, O Black! (@oconguito) May 27, 2018
This is so upsetting, there are so many fans who don't want this

— arins 💤 (@0Arins) May 27, 2018
Others think it was consistent with the group's values.
yall saying bh wont be the same like ameer wasnt using the same flow in all bh songs lmao stop being apologists for abusers you like and outraged about those you dont. you cant praise matt for his anti-misogynistic verses and get upset when bh as a group acts on this

— Pobrecito (@wtfvcc) May 27, 2018
While fans on the popular Brockhampton subreddit think it could spell the end of the group.
"I feel like Kevin can't do nothing about the situation though. It's either Ameer or Brockhampton," one highly upvoted post read.
"I'm worried that this will tear them apart and end up being Ameer and Brockhampton" was the top reply.