H&M sizing: 'I couldn't get the jeans past my thighs'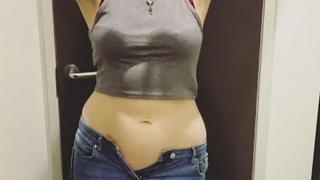 H&M is changing its UK sizing after complaints from customers who struggled to fit into their clothing.
The existing measurements and fit of a size 12 will soon be classified as a size 10 instead.
Many customers said that sizes in the store were much smaller compared to other high street shops.
Laura Finnemore, 34, is one of them. She was shocked to find that six separate H&M items in her size were "far too small to even try and get on".
She told Newsbeat the experience made her "lose faith in the brand" and that she hasn't shopped at H&M since.
"There must be thousands of people out there who, like me, have been left feeling upset to varying degrees because of H&M's sizing policy."
Indeed, Laura isn't alone.
Rebecca Parker told Newsbeat she'd had a similar experience.
"I went into H&M a couple of months ago to try on a pair of jeans and couldn't get them past my thighs," she said.
The 24-year-old wrote an open letter to the clothing brand in March after she couldn't fit into a pair of size 14 jeans, despite wearing a size 14 in other shops.
"I wrote the letter to try and get them to respond as to why they weren't producing clothes to truly reflect the size they were advertising them at," she said.
But after sending a couple of emails, Rebecca said she struggled to get anything substantial back from them, aside from "disappointing excuses".
"I think what bothered me most with the responses I had from H&M was that they were unwilling to accept they were kind of being hypocritical about the way they were selling products.
"You could buy a T-shirt that says feminism on it and yet they're still making clothes that make women feel a bit rubbish.
"I just felt like that was a bit dishonest."
Ruth Clemens, 27, has also struggled with H&M sizing, but admits the problem isn't just about the retailer alone.
"Similar things have happened to me in other stores but never to the extent that it happened in H&M," she said.
"I think part of the problem with high street fast fashion is because of the way that the clothes are produced as cheaply as possible with as cheap labour as possible, there's just no consistency or quality across the range."
Ruth also argues that standard sizing guide in many shops doesn't account for body diversity.
"All bodies are different, there's not just a sort of extreme or a binary of fat or thin, everybody is different in different ways.
"It's really difficult for a standard small to large system of sizing to account for that," she added.
Following customer feedback, a H&M spokesperson told Newsbeat the brand was "taking the steps to change our womenswear to be in line with UK sizing".
In practice, this means that clothes labels will go down a size: an item currently labelled as a size 14 will become a size 12.
But Ruth worries that while this switch is great, it won't solve the bigger problem.
"I just worry it's not going to change the problem with people's self-esteem, especially young people's self-esteem," she said.
"I think it's good that H&M are changing the sizing policy, but I think we need to do something more about challenging the idea that there's a right or a wrong size."
Follow Newsbeat on Instagram, Facebook and Twitter.
Listen to Newsbeat live at 12:45 and 17:45 every weekday on BBC Radio 1 and 1Xtra - if you miss us you can listen back here.