Abortion rights in Northern Ireland 'a no-brainer', MP says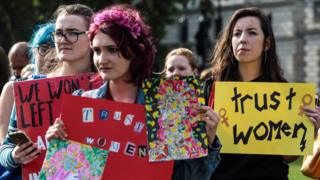 Women in Northern Ireland do want British politicians to fight for their abortion rights, a Westminster MP says.
Jess Phillips was speaking after an emotional debate in the House of Commons about the issue.
The Labour MP opened up about having an abortion herself - and rejected claims that the issue shouldn't be discussed in London.
Anti-abortion campaigners in Northern Ireland say the country should make its own laws.
But Jess Phillips insists she and others like her are not interfering from far away.
"We're not doing this as Westminster overlords," she told Radio 1 Newsbeat.
"We are doing it because hundreds and hundreds of women from Northern Ireland have requested that we fight for their rights."
Access to abortion in Northern Ireland is only allowed if a woman's life is at risk or if there is a permanent or serious risk to her mental or physical health.
Pressure to change the law follows last month's referendum in the Republic of Ireland which overturned a near-total ban on abortion.
But Northern Ireland has no working government at the moment. So politicians there can't make big changes to health policy.
"I don't think it is a political issue. I think it's a no-brainer," Jess Phillips said.
"I think it's really important as well, not just to talk about the really difficult cases, but also just to talk about ordinary women, just like me, who have made these decisions in their lives, because that is the vast majority."
Pro-choice campaigners in Northern Ireland have welcomed the debate.
"There is now an unstoppable momentum for change for Northern Ireland and we are positive that that will come," Grainne Teggart from Amnesty International in Northern Ireland told Radio 1 Newsbeat.
"Women who have had to travel for abortions from here to the rest of the UK are no longer willing to be silenced and have their healthcare needs not met here."
The Northern Ireland Secretary Karen Bradley said that although she'd like the law to change, the matter is devolved and "should be decided by the people of Northern Ireland".
The DUP - Northern Ireland's biggest political party - agrees with that. It opposes any change to Northern Ireland's near-total ban on abortions.
How can MPs at Westminster change Northern Ireland's abortion law?
The laws around abortion in the UK are governed by something called the 1861 Offences Against the Person Act.
In 1967, that Act was amended so abortions became legal in England and Wales - but this was not extended to Northern Ireland.
Campaigners say changing the 1861 Act to make abortion a health issue, rather than a criminal one, would force a change in Northern Ireland.
Labour MP Stella Creasy - who called for the Commons debate on Tuesday - backs that idea.
Jess Phillips added: "It's not just about the law in Northern Ireland.
"It's about repealing the fact that abortion still exists in criminal law, rather than scientific health-related policy - and that's the same for women across the entirety of the UK.
"To repeal that would mean that Northern Ireland, as a devolved nation, would have to make their own health guidance on that matter."
She says at that point, she'd campaign to have the law changed there.
'Sickening' and 'outrageous'
Anti-abortion campaigner Bernadette Smyth described the debate by MPs in London about abortion in Northern Ireland as "outrageous".
"Abortion is a devolved matter in Northern Ireland and the protection of unborn life is a fundamental concern for us all," she told Radio 1 Newsbeat..
"It underlines all human dignity.
"We have a legal and democratic right to make our own laws, such as abortion.
"So to listen to a debate about women in Northern Ireland is sickening and it was disgusting."
Follow Newsbeat on Instagram, Facebook and Twitter.
Listen to Newsbeat live at 12:45 and 17:45 every weekday on BBC Radio 1 and 1Xtra - if you miss us you can listen back here.