Donald Glover as Willy Wonka? Fictional characters' changing races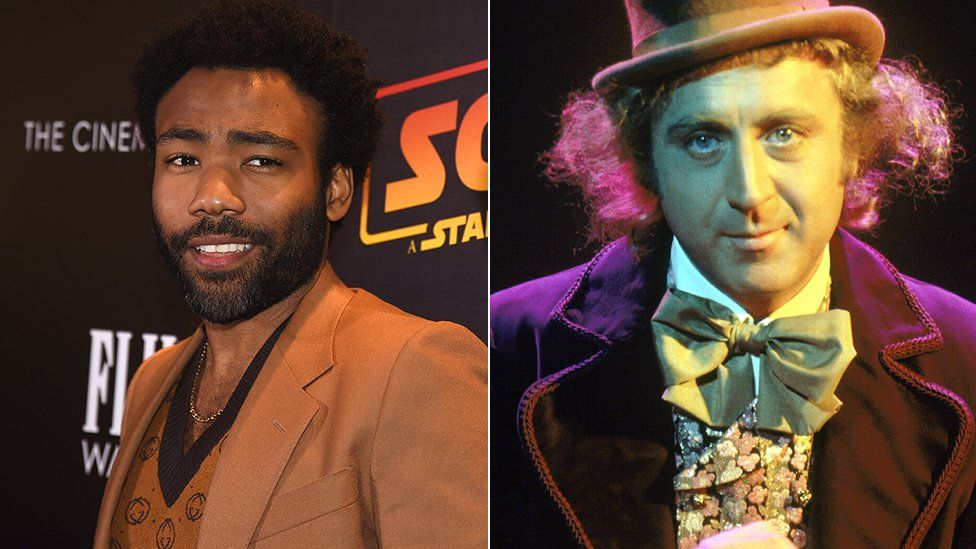 One of Donald Glover's next projects could be playing Willy Wonka in a spin-off about the Charlie and the Chocolate Factory character.
Ryan Gosling and Ezra Miller are also on the shortlist to play the chocolatier, according to entertainment website Collider.
On film, the role has been played exclusively by white actors Gene Wilder and Johnny Depp.
The movie will apparently tell Willy Wonka's origin story.
If Donald does gets the job, it won't be the first time a black actor has played a character originally written as white.
Newsbeat's taken a look at some famous examples.
The Harry Potter universe
Hermione Granger is played by actress Noma Dumezweni in the West End play, Harry Potter and the Cursed Child.
She plays a grown-up Hermione. In the original Harry Potter films the character was of course played by Emma Watson.
When Noma was cast for the role, there was some criticism about the decision for a black women to play a role that audiences had always known as white.
But JK Rowling, the author of the Harry Potter books, pointed out that there is no reason why Hermione should be white and the books don't explicitly mention her race or skin colour.
In Deadpool 2, the character of Domino is played by Zazie Beetz.
In the original comic Domino has icy-white skin with a black circle tattooed around her eye.
In the new film that black circle has been replaced with a white one and her pixie cut has been replaced with an afro.
In Marvel comics' Fantastic Four, Jonathan Lowell Spencer Storm aka Johnny Storm or the Human Torch is described as a muscular, young blonde with blue eyes.
That character has been played by Chris Evans in the past, who now plays Captain America.
For the 2015 remake of Fantastic Four, Michael B. Jordan played Johnny Storm.
In an interview with Variety magazine this week, Michael B. Jordan said he's told his agent he only wants to audition for roles written for white males and not roles written for African-Americans.
Jamie Foxx plays Electro in The Amazing Spider-Man 2. The villain was originally white in the comics.
His traditional green and yellow costume from the books was also left out in favour of a "more grounded" look look.
Although Jamie Foxx was previously a stand-up comedian, he emphasised that he didn't want Electro to be funny at all, and that he took his inspiration for his villain voice from Clint Eastwood and Alec Baldwin.
Quvenzhané Wallis played Annie in the 2014 film.
The film is a contemporary take on the Broadway musical with significant differences.
For example, the setting was changed from 1930s to present-day New York City and Annie was in foster care rather than living in an orphanage.
The character of Oliver Warbucks was also changed to William Stacks and played by Jamie Foxx.
Samuel L. Jackson plays Nick Fury in The Avengers movie franchise. In the comics and the 1990s animated Marvel series, the character was white.
Nick Fury was also played by David Hasselhoff - who starred the 1998 TV film Nick Fury: Agent of S.H.I.E.L.D.
Samuel later signed a nine-picture deal to portray the character in the Marvel Cinematic Universe.
He first appeared in Iron Man in 2008.
When race swapping becomes "white washing"
There are also some more controversial examples of race swapping, particularly when white actors have been booked to play non-white characters.
The Japanese manga originally features lead and supporting characters of Asian descent, but the film was criticised for erasing the majority of this.
It was also reported that Scarlett's appearance had been altered in post-production to make her appear more Asian.
Emma Stone plays Captain Allison Ng in the 2015 film Aloha.
Her casting caused controversy because she was portraying a woman of Hawaiian and Chinese heritage.
Cameron Crowe - who wrote, produced and directed the film - apologised to those who were offended by the casting choice in a blog post.
Nat Wolff plays Light Turner in the 2017 film adaptation of Death Note.
However, due to it being based on the Japanese manga of the same name, many accused the movie of whitewashing.
Not only was the lead replaced by a white actor, his love interest (who was originally a character of Asian descent) was also swapped for a white actor.
Last year, director Adam Wingard addressed the criticism, admitting it was "a good conversation to be having, and it wasn't one we were really expecting".
"It wasn't until the Ghost in the Shell cracked it open that it became a conversation," he said.
"But by then, we had already cast all of that stuff."