Adebayo Akinfenwa destroys boot in message to Sergio Ramos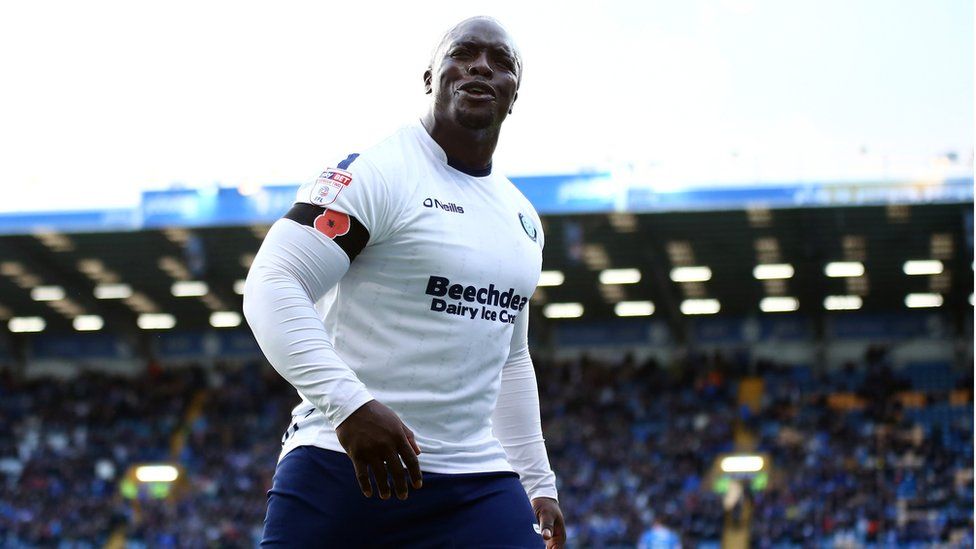 Wycombe Wanderers striker Adebayo Akinfenwa has given a (jokey) warning to Real Madrid defender Sergio Ramos.
Ramos is facing criticism after Liverpool's Mohamed Salah was injured in the Champions League final following a tussle between the two.
Akinfenwa tweeted that he'll always have Liverpool's back - with a video showing him breaking a football boot with his bare hands.
Liverpool fans in turn appear to have Akinfenwa's back thanks to the video.
HAHAHA my guy Liverpool need to sign you up.

— Jake 🐐 (@JakeFutboI) June 6, 2018
Lmao. Make this man the first non LFC player to be made club ambassador.

— Ashankith (@bonquixote) June 6, 2018
Ramos has denied any responsibility for either Liverpool player's injuries, in an interview with Spanish sports newspaper AS.
"I see the play well, he grabs my arm first and I fell to the other side," he said.
"The injury happened to the other arm and they said that I gave him a judo hold.
"After, the goalkeeper said that I dazed him with a clash.
"I am only missing Firmino saying that he got a cold because a drop of my sweat landed on him."
The Spanish footballer also suggested that if he were in Mo Salah's shoes he would have continued playing with a hurt shoulder.
"He could have played if he got an injection for the second half. I have done it sometimes but when Ramos does something like this, it sticks a little bit more."
Egyptian forward Salah has had surgery on his shoulder and is hoping to recover in time for the World Cup.
He says he's "confident" that he'll make it in time.
Akinfenwa - whose nickname is The Beast - acknowledged in his video that he probably won't cross paths with Sergio Ramos on the pitch.
"Look brother, I'm never going to play against you because I'm never going to make it to the Champions League, and you're lucky."