Spider-Man: Into the Spider-Verse trailer - what we learned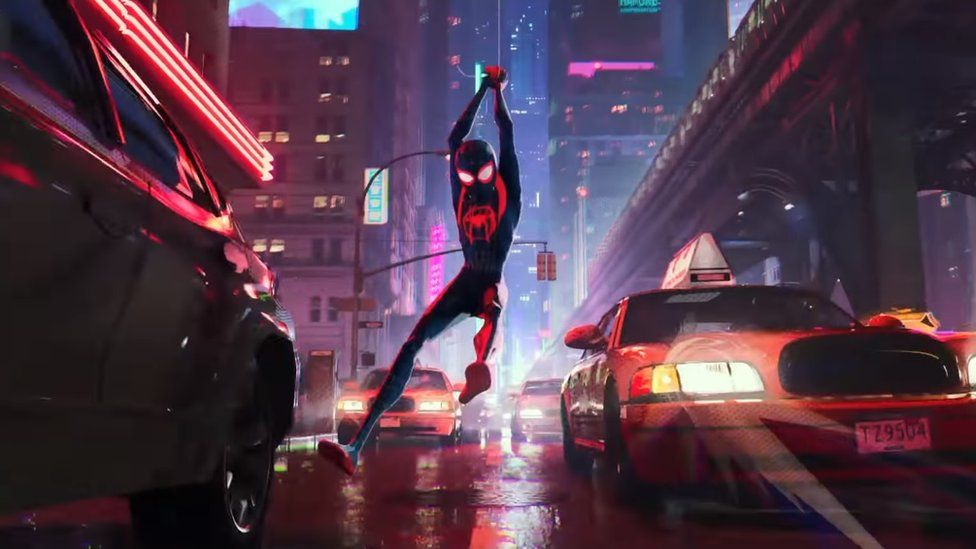 The trailer for the latest Spider-Man film has been released and it features a whole lot more Spidey than ever before - mostly because it contains more than one version of the famous character.
Spiderman: Into the Spider-Verse introduces 14-year-old Miles Morales, who also has spider super powers, to the big screen.
The animated film's protagonist made his Marvel debut in 2011 as the comic book series' first non-white Spider-Man.
Here's what we know about the film, which is out in December.
If you've read the comics it won't be a big surprise that there's more than one Spider-Man.
But Peter Parker is a bit shocked when he finds out Miles Morales, an Afro-Latino character, is like him.
Who knew that more than one person could develop Spidey-senses? Well, in this universe they can.
Peter ends up taking on a mentoring role and tries to teach Miles how to be Spider-Man.
2. Switching up those super powers
There might be two Spider-men but they are different - Miles has the ability to be invisible.
In the trailer he hides from his dad by disappearing into thin air.
His dad is a police officer and not exactly Spider-Man's biggest fan.
3. Woah, Spider-Man got old
It seems even superheroes get old.
Peter Parker looks a little scruffy, unshaven, hungry and is strapped for cash.
He has greying hair and it's fair to say he might not have been trying to save the world for a while.
4. Spider-Gwen makes her movie debut
Towards the end we see someone dressed in a black and pink outfit with a white mask - that's Gwen Stacey.
You might remember Emma Stone played Gwen in two Amazing Spider-Man movies opposite Andrew Garfield as Spidey.
But Emma didn't get any spider-powers when she played Gwen in the 2012 and 2014 films - her Gwen was little more than a love interest.
Spider-Gwen comes from an alternate Marvel universe where Peter Parker wasn't the student bitten by the radioactive spider.
"How many spider people are there?" Miles asks Peter Parker as Gwen swings into action.
She's already a big hit with the fans.
5. People are loving the animation
Fans have been reacting to the animation and artwork in the film.
Even in the trailer you can see this animated film is slick but it stays true to its comic book background, with Miles' thoughts appearing as word boxes like they would in a comic book.
Spider-Man: Into the Spider Verse is probably gonna be the best animated adaptation of any comic-book character.

The animation style is absolutely phenomenal and feels like an actual moving comic book. #SpiderVerse pic.twitter.com/FLHTkJ1aC9

— 🕷 INTO THE SPIDER-VERSE 🕷 (@JamesConoway) June 6, 2018