World Cup 2018: Esports champion Robert Fakhretdinov's guide to Russia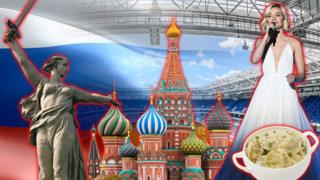 Have you got your England shirt ready and googled the Russian for "do you speak English?"
If so, then chances are you've managed to get yourself a ticket to one of England's three World Cup group games.
You're probably looking for something to do while you're in the world's biggest country, which stretches across two continents and 11 time zones.
So we got professional Russian Fifa player Robert Fakhretdinov, aka Ufenok77, to give us his top tips.
Robert, 21, used to be a footballer before he made the switch to esports.
And it's paid off - he's just won the Russian Fifa league for Lokomotiv Moscow.
Here are Robert's recommendations for a trip to Russia.
The nightlife
Robert seems to understand Brits.
"I know English fans love to drink," he says.
You'll be in good company if you're going out there - he says Russians love a drink just as much, and recommends the big cities for a night out.
"In the centre of Moscow for example, you have a lot of clubs."
And here's what you need to add to your Spotify playlist before you go if you want to sing along to the big hits.
Russian rappers Basta and Oxxxymiron are Robert's recommendations.
Or if you want to go a bit more mainstream, Robert says Polina Gagarina is one of the biggest popstars in Russia (Eurovision aficionados will of course remember her as 2015's runner-up).
The food
Don't be shy.
"You just have to come and try everything," says Robert.
He suggests you go for Pelmeni - meat dumplings - as they're "Russia's national food."
Plus you have to try Borscht - a sour soup made from beetroot, which according to Robert is very good.
The weather
Be honest - when you think of Russian weather, you picture a snowy Siberian tundra.
But make sure to pack your sun cream and flip flops because it will be hot where England are playing - "25 or 30 degrees in some places".
Most of the World Cup venues are in the south-western part of the country - so you're well away from the arctic circle.
Probably best to pack some warm clothes just in case, though.
The people
"The world thinks that we are angry, but no. So have a smile on your face," says Robert.
"People here are really funny. We know how to welcome our guests."
But he adds: "Be honest. Russians don't like it when someone lies to them."
You've been warned.
The venues
England's three group matches are all being played at different stadiums.
Here are Robert's tips for if you've got a couple of days either side of the matches.
Tunisia v England: Volgograd Arena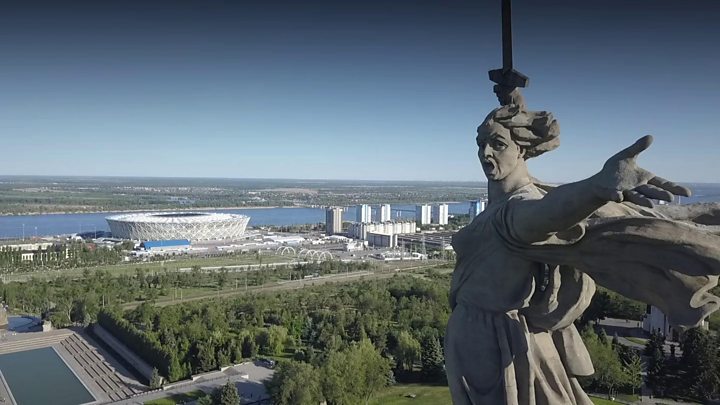 Volgograd was the site of one of the most famous battles of World War Two - the Battle of Stalingrad.
The Soviet Union defeated Nazi forces in 1943 - which makes it "a hero's city," according to Robert.
"You have to visit the Mamayev Kurgan statue. It's maybe one of the most famous places in Russia, because of the memorial of war.
"It's really huge - taller than the Statue of Liberty. It's the number one place you should check out."
England v Panama: Nizhny Novgorod Stadium
"Nizhny Novgorod is not far from Moscow," says Robert.
Just remember that he's talking distance in terms of Russia, though.
It's about 250 miles away from the Russian capital, or roughly the same distance as between London and Newcastle.
"One place I know is the Kremlin [the central fortress].
"It's the centre of the city and of its history. You have to check it out."
England v Belgium: Kaliningrad Stadium
The area of Kaliningrad is separate from the main part of Russia - it actually sits between Poland and Lithuania.
It became part of the Soviet Union after World War Two in 1945 and remained a Russian exclave following the Soviet Union's collapse.
Robert says it's "more like a European city. It's really beautiful."
Plus, Lonely Planet's destination editor for Russia told Newsbeat that Kaliningrad "might be one of the most traveller friendly World Cup host cities."
Newsbeat is at the World Cup in Russia this summer.
You can follow our coverage on Instagram, Facebook and Twitter.
Or listen live at 12:45 and 17:45 every weekday on BBC Radio 1 and 1Xtra - if you miss us you can listen back here.