World Cup 2018: England and penalties - Shearer and Lineker's top tips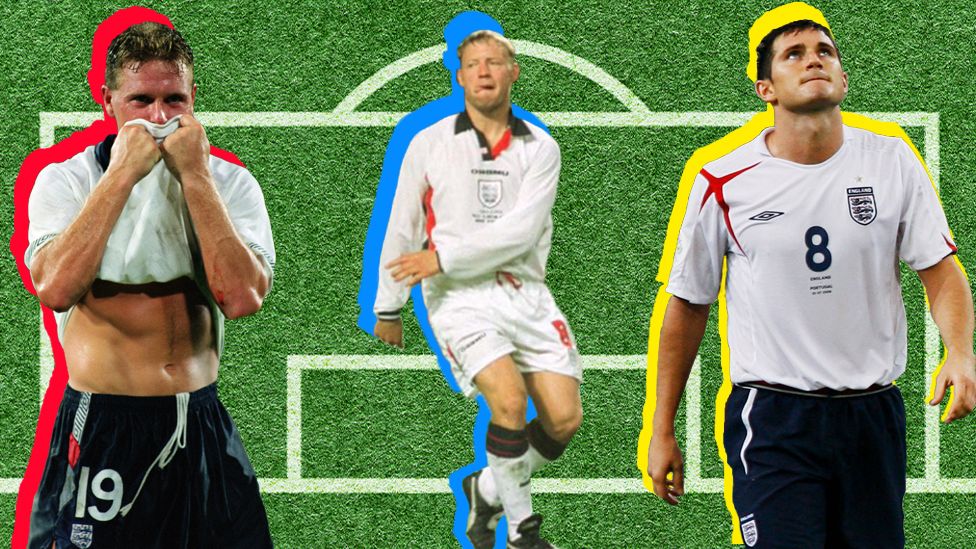 Now England are in the knockout stages of the World Cup, the team will face another potential hurdle during matches: extra time, and then - say it quietly - a penalty shootout.
We all know England's shootout record at major tournaments is bad. In fact, it's the worst in the world.
But that doesn't mean all English people are bad penalty takers.
Step forward Gary Lineker and Alan Shearer.
They've both been involved in England World Cup shootout defeats - Gary to West Germany in 1990 and Alan in the 1998 exit to Argentina.
But they both scored their pens.
We've got them to give us their top tips for penalty shootouts.
England number one Jordan Pickford will most likely be working closely with his coaches to work out where opponents like to put the ball.
But, Shearer says, the team should make sure they are doing their homework the other way round too.
"Very much like the guy who's taking the penalty, the goalkeeper has a favourite side where he wants to dive as well," he says.
"He's done his homework on you. He knows where you've put your last few penalties.
"You should know the goalkeeper - his last five or 10 penalties, where he's dived".
2 - Practice, practice, practice
In such a high-pressured situation, how do you make sure you hit the ball where you want it to go?
"Repeat, repeat, repeat, repeat," says Lineker.
"I always practised the penalty I was going to take in the game.
"I'd hit 30, 40 or 50 a day during the tournament, so I knew exactly what I was going to do."
Lineker's repetition worked in the 1990 World Cup, when England's semi-final against West Germany ended in a shootout.
"I'd practised a certain penalty low to the keeper's right, and so I said (to myself) 'Just hit exactly what you've prepared.'
"I hit it great, and scored."
"There's not an awful lot of chat" in the build-up to the shootout, Shearer says.
"It's such a pressurised, nerve-wracking situation.
"You're aware that there's millions of people watching on TV and thousands of people in the stadium - but the most important people are your teammates and the coaches."
Lineker remembers the huddle in the centre circle before the shootout against West Germany.
"The manager Bobby Robson walked over to us and said 'Don't let me down, there are 30 million people watching this back home,' which is not really what you want to be reminded of.
"Peter Beardsley and myself burst out laughing, we thought it was hilarious.
Lineker and Beardsley both scored, along with David Platt - but Stuart Pearce and Chris Waddle missed, and England were knocked out.
4 - The run-up starts at the halfway line
"A shootout is totally different to a normal penalty - because you have to walk 50 yards to take it," says Lineker.
"You've got an eternity to think about what can go wrong or right.
"You don't know whether to break into a quick jog to get it over with, you don't know whether to walk.
"It seems to take forever. And all you really think is 'Please score. Please score.'
"Because anyone can miss a penalty. The important thing is to actually have the cojones to take one."
5 - Pick a spot - and stick to it
"It's fatal to change your mind," says Shearer.
In the 1998 World Cup last 16 match against Argentina which went to penalties, Shearer had already scored a penalty - in his favourite spot - during the match.
So, come the shootout, England's number nine steps up again: "And I'm thinking 'What do I do? The keeper knows that I've stuck it to his right on the first one.
"But I thought 'No, I'm going to stick to it. If I pick my spot, the goalkeeper should not get there.'"
A few penalties down the line, and David Batty stepped up for England.
"I said 'If you're in any doubt whatsoever, put your head down, smash it straight down the middle as hard as you can,'" says Shearer.
"He looked at me just before he set off to the penalty spot he said 'Yes that's what I'm going to do'."
But Batty didn't do that. He put it to the keeper's right and it was saved.
"I said to him afterwards 'What happened?' - and he said 'I don't know, I just changed my mind.'"
That decision was part of why England were knocked out of the World Cup.
Let's hope we don't see the same outcome - again - this year.
Gary Lineker and Alan Shearer were speaking to Newsbeat's Nick Rotherham. Words by Imran Rahman-Jones.
Newsbeat's at the World Cup in Russia this summer.