Dodgeball World Cup: England's Olympic dreams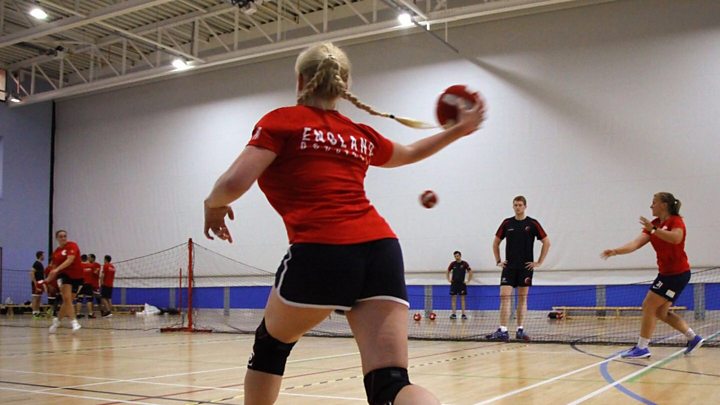 England's FIFA World Cup dreams are over (for now), but 2018 could yet be the year the country wins a World Cup.
We're not talking about football though - in this game, instead of kicking them, you've got to dodge the balls.
You'll either remember dodgeball from your PE lessons or that comedy featuring Ben Stiller in a couple of ridiculous outfits.
But some have dreams of it reaching the Olympic stage one day.
Manchester to Madison Square Garden
Dodgeball made a big move towards that dream after holding its first World Cup in 2016.
Some what unglamorously though, it took place in a sports hall in Manchester.
Ten countries ducked, dived and dodged but it was the England Lions Men's and Mixed teams that took home the trophy.
The World Cup is back on 4 August and the countries will be meeting again.
But this time the final will take place at one of the most iconic sporting and music venues in the world - Madison Square Garden, home to the New York Knicks and the location of numerous Muhammad Ali fights.
Unlike a lot of professional sports, the players on this team are all volunteers and have paid for their trip to the Big Apple themselves.
But that doesn't seem to have dimmed their mood as they prepare for the biggest dodgeball event in the world.
"It's massive for us," says England dodgeball player Joanne Horwood.
She told Newsbeat that the team has been working "exceedingly hard" - and that winning again is definitely on their agenda.
Remember the film?
Some people will associate the sport with the 2004 film Dodgeball: A True Underdog Story.
The Ben Stiller flick has helped popularise dodgeball but it's also been quite detrimental, according to John Rudland, the manager of the England Lions.
"I think dodgeball does have a stigma and that's where the film hasn't helped," he told Newsbeat at one of the Lions' final training sessions.
He explained that the film has brought "a comedy aspect" to the sport - but is also very confident in his team's ability to ditch the jokes.
"What we've proven over the past couple of years is we've taken it from just being a game to showing it's a sport," he said.
"The actual physical exertion that the players give when you watch them - it's far more than just a game."
Is it a real sport?
Dodgeball is played as a bit of fun in schools across the country.
But last year something happened to give it more credibility.
The Global Association of International Sports Federations (GAISF) is the umbrella organisation for all Olympic and non-Olympic sports.
And it officially recognised dodgeball as a sport in 2017.
"I first got into dodgeball when I was at university," Charlotte Josiah, England's Women's captain, told Newsbeat.
Charlotte is now preparing to get the women's team their first World Cup win, after being the only England team to not pick up a win in 2016.
In her other life, she is a teacher and thinks that playing dodgeball at a local club is the next step if you loved it in school.
But how different is dodgeball at school compared to competitive dodgeball?
Well, you probably didn't have a nutritionist to help you improve your dodgeball skills at school.
And while getting hit with one may still have stung, the balls definitely weren't being thrown at around 60mph - which is the speed England manager John Rudland says they travel at.
What's next?
It's still very early days for dodgeball.
The European Dodgeball Championships are the next thing the Lions are looking to conquer after the World Cup.
However, after talking to the team it's clear that everyone is driven to turn their Olympic dreams into reality.
England Lions Men's player Jordan Taylor thinks the sport is ready now.
"Dodgeball has all the key skills for the Olympics. You need to be fit for it. You need to be able to throw, run, jump," he told Newsbeat.
And with skateboarding - also formerly a stigmatised sport - being added to the Olympics in 2020, the prospect of dodgeball making it there doesn't seem too absurd.
Follow Newsbeat on Instagram, Facebook and Twitter.
Listen to Newsbeat live at 12:45 and 17:45 every weekday on BBC Radio 1 and 1Xtra - if you miss us you can listen back here.