Ocean's 8 director: We always planned to make a feminist film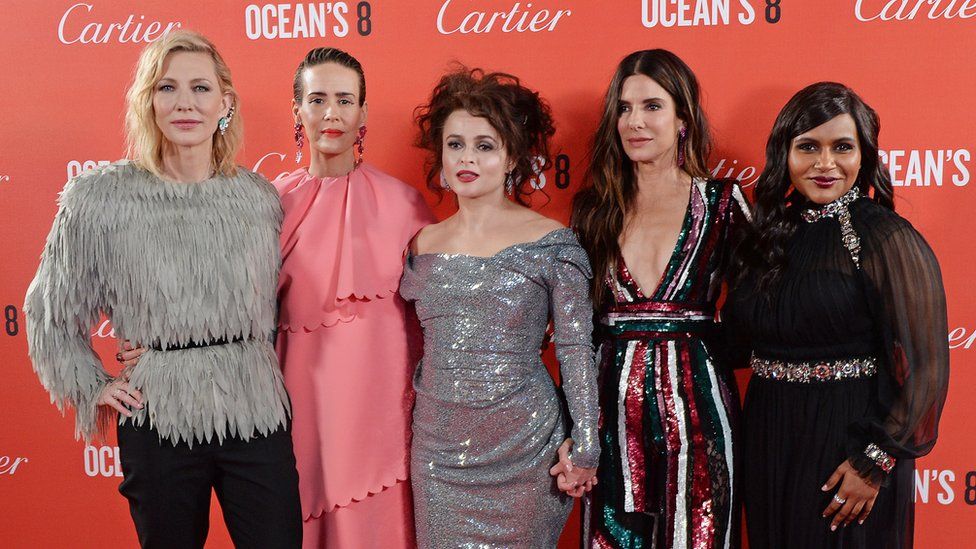 The director of Ocean's 8 says the all-female movie was planned long before #MeToo.
The heist film starring Sandra Bullock and Cate Blanchett has been seen by critics as an attempt to redress Hollywood gender imbalance.
But Gary Ross has told Newsbeat he "didn't even look at it that way".
"They're just peerlessly talented actors," he said at the movie premiere in London last night.
Rihanna, Anne Hathaway and Helena Bonham Carter also take lead parts in the drama about a plot to steal $150 million of diamonds at the Met Gala.
"To be in the presence of that much talent was incredible," said Gary, who co-wrote the script with screenwriter Olivia Milch.
She explained: "We are both feminists.
"We always were excited by spending time with these powerful women characters. For us, that was a given."
Olivia wrote and directed the female-led Netflix film Dude, while Gary directed The Hunger Games, starring Jennifer Lawrence.
"In that film we had a female protagonist in the kind of movie that no-one had seen before," said Gary.
"This was not strange terrain to us."
Meanwhile, speculation has surrounded the director's decision to cut Matt Damon's cameo from the film.
The actor, who starred in Ocean's 11, has been heavily criticised for comments he made about sexual harassment in the entertainment industry following allegations against the film producer Harvey Weinstein.
But Gary Ross insists the decision to cut his performance was purely to improve the film.
"That was really just storytelling. There were a lot of other actors that did things for us and just couldn't make [the final cut]."
Ocean's 8 took $41.5 million (around £31 million) in its opening weekend in the US, more than any previous film in the Ocean's franchise.
Sandra Bullock told Newsbeat it shows that women are, "allowed at the table. There's no reason for a gender imbalance."
Her co-star Sarah Paulson added: "It makes me feel proud. I don't think there have been many opportunities to show a group of so many women on film who are rooting for each other."