Queer Eye's Fab 5: How the boys got to where they are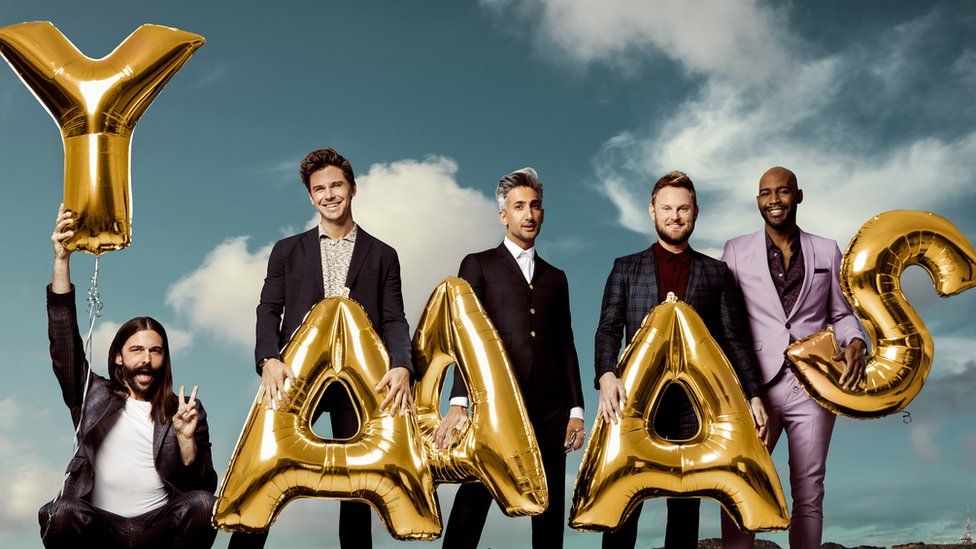 The first season of Netflix's Queer Eye reboot seemed to come out of nowhere.
With its heart and humour, it became a much-talked about success and made stars of its Fab 5 presenters.
It's meant there's been more hype (and promo) ahead of the incoming season two, in which Karamo, Bobby, Antoni, Tan and Jonathan are back to empower, style and make-over their subjects.
But how did the boys get to where they are?
Tan is the only Brit in the Fab 5 and hails from Doncaster in South Yorkshire. He's also the only Queer Eye member not to have had previous television experience.
"I went to the same high school as Louis Tomlinson," he tells Newsbeat. "Hall Cross."
Growing up, he always wanted a career in fashion and worked in his family's denim factory.
He headed to college in Doncaster and proceeded to work in all elements of the fashion industry including design and wholesale.
Via work for high street chains like Zara, he eventually set up his own successful womenswear brand, Kingdom and State in 2011.
The company - and Tan - eventually relocated to the US. He's currently settled in Salt Lake City in Utah.
YAS! By far the loudest of the Fab 5, Jonathan (or JVN as he's known to many) has an eclectic CV.
He's a celebrity hairdresser to people like comedian Margaret Cho and - despite his fame - you can still book an appointment with him.
Many Game of Thrones fans will know him from his spoof sketch Gay of Thrones in which he offers an alternative take on each episode's events.
According to JVN, Cersei is Blonde Cher and Arya Stark is known as Baby Kirsten Stewart.
He also has a podcast series called Getting Curious in which he debates a load of issues such as Brexit, the US prison system, ice skating and the Middle East.
Episode titles include 'Is Saudi Arabia Cute Now?' and 'What Makes a Cult a Cult?'
Karamo was the first openly gay black man on MTV's reality show The Real World, appearing in the 2004 Philadelphia edition.
In 2016, he made a return to reality with The Next: 15, a show about ex-reality stars including Celebrity Big Brother star Tiffany Pollard.
He then presented a dating reality show called Are You The One: Second Chances, in which couples are put together in order to win a prize.
Karamo also founded the HIV awareness organisation 6in10, which helps gay and bisexual black men and aims to combat stigma about the condition within the black community.
He's dad to two boys, Mylo and Prince.
Queer Eye's food and drink expert has a link to the first incarnation of the show - which ran from 2003 to 2007 - when he served as a personal chef to one of the original stars, Ted Allen.
Despite getting stick for his love of avocados (he makes a LOT of guacamole), he's also an actor who's been in several films and shorts.
According to IMDb, he's appeared in films such as Elliot Loves, Daddy's Boy and Blood Surf.
You can see him briefly in the trailer for this Polish docudrama called Ocju - To My Father.
Bobby Berk is usually tasked with the biggest projects on Queer Eye, renovating and updating homes and offices.
He moved to New York in 2003 and built his profile within the homeware sector, working for outlets such as Bed Bath & Beyond and Portico Home + Spa.
The designer created his own self-titled brand in 2006, which is described as "epitomizing hip, minimalist urban luxury".
Before Queer Eye, he got TV experience by being a home and design expert on various US networks.