New American Horror Story to be Murder House-Coven crossover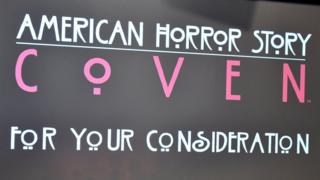 The upcoming eighth season of American Horror Story will be a crossover of season one's Murder House and season three's Coven.
The announcement has come straight from the series co-creator, Ryan Murphy.
A crossover AHS series was originally expected to come out after season eight - the news of its early arrival has come as a welcome surprise for fans.
The concept of comics, TV shows and films bringing in crossovers has grown in popularity over the years.
Season one of AHS, Murder House, revolves around a family who move in to a house inhabited by ghosts of the people that died there.
The third season, Coven, follows a group of young witches getting to grips with their powers.
Creators of the show have previously talked about a crossover season being in the works, but that it would take place after season 8.
Back in January, Murphy spoke about the upcoming season and said it would be "different from what we've done before."
This led many to believe that season 8 wouldn't be a crossover.
Linking stories or characters from one project to another is not a new phenomenon, but it's becoming more common in TV shows and films.
There've even been crossover cartoon episodes. Back in 2014, Family Guy did a crossover episode with The Simpsons called The Simpsons Guy.
In regards to films, Marvel's Avengers: Infinity War has been called "one of the most ambitious crossover events in history."
Obviously, not everyone agrees with that statement.
Who could forget That's So Sweet Life of Hannah Montana?
Despite its growth in popularity, crossover series are rare in comparison to crossover films, episodes and comics.
It's still unclear how the upcoming season of American Horror Story will play out, but fan favourites such as Sarah Paulson are expected to return.
Season 8 of American Horror Story is set to premier later this year - the final release date has not yet been announced.
Follow Newsbeat on Instagram, Facebook and Twitter.
Listen to Newsbeat live at 12:45 and 17:45 every weekday on BBC Radio 1 and 1Xtra - if you miss us you can listen back here.