Brie Larson wants more diversity among film critics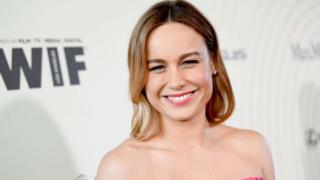 Brie Larson has called for more diversity and inclusion in film criticism.
Speaking at the Women in Film Crystal + Lucy Awards in California, she highlighted that 67% of the top critics reviewing the 100 highest-grossing movies in 2017 were white men.
"Am I saying that I hate white dudes? No, I'm not," she said.
"I'm just saying we need to be conscious of our bias and do our part to make sure everyone's in the room."
The study from USC found that fewer than a quarter of the top critics were white women and less than 10% were underrepresented men.
Women of colour made up a mere 2.5%.
"If you make a movie that is a love letter to women of colour, there is an insanely low chance a woman of colour will have the chance to see your movie and review your movie," the Captain Marvel star said.
"I don't need a 40-year-old white dude to tell me what didn't work about A Wrinkle In Time. It wasn't made for him!
"I want to know what it meant to women of colour, to biracial women, to teen women of colour."
This isn't the first time Brie has been vocal about this issue.
Last week the actress tweeted about the study, adding the hashtag #Inclusion Crisis.
She ended her speech emphasising the importance of good reviews and allowing the movie's target audience to write them.
"We are expanding to make films that better reflect the people that buy movie tickets, but they are not allowed enough chances to read public discourse on these films by the people they were made for."
Brie's movie breakthrough came in 2013 when she starred in an independent film called Short Term 12.
Two years later she won a SAG award, a Golden Globe, an Oscar and a BAFTA for her role in Room.
Brie is set to star in Marvel's Captain Marvel next year.
Follow Newsbeat on Instagram, Facebook and Twitter.
Listen to Newsbeat live at 12:45 and 17:45 every weekday on BBC Radio 1 and 1Xtra - if you miss us you can listen back here.