Ariana Grande and Pete Davidson confirm engagement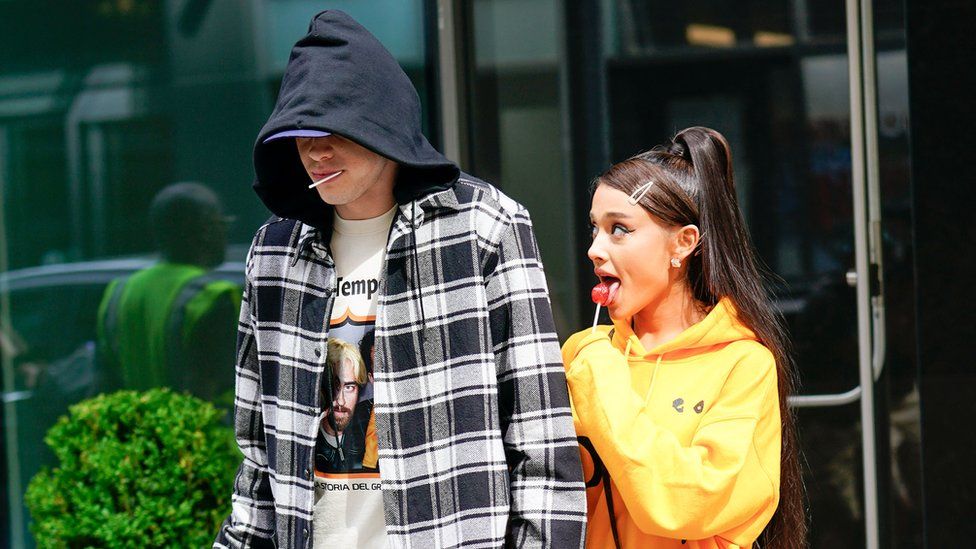 Comedian Pete Davidson has confirmed he is engaged to Ariana Grande, adding: "I feel like I won a contest."
The couple started dating in May and there was speculation earlier this month they were planning to get married.
Speaking on The Tonight Show with Jimmy Fallon, Pete - best known for his role on US comedy show SNL - confirmed they were engaged, adding: "It's lit."
He said one fan even came up to him and said: "You gave me hope".
It's the first time either of the pair have spoken publicly about their engagement - although Ariana appeared to confirm the news earlier this month when replying to fans on social media.
The BBC is not responsible for the content of external sites.
On The Tonight Show, Jimmy Fallon jokingly told Pete that he "didn't have to get engaged to Ariana Grande to come on our show".
When asked how he was handling it all, the comedian said that men were walking past him and tipping their hat as a sign of respect.
"Some dude came up to me and was like: 'Yo man, you gave me hope'. I didn't know I was that ugly."
On Saturday, Pete shared a photo on Instagram which appeared to show Ariana wearing an engagement ring.
It included the caption: "You know what you'd dream it be like? It's better than that."
The BBC is not responsible for the content of external sites.
The couple have both recently come out of other relationships.
Ariana was dating rapper Mac Miller, while Pete was in a relationship with Cazzie David, whose dad is comedian Larry David.
The singer recently spoke about her recently-ended relationship with Mac Miller, calling it "toxic".
"I am not a babysitter or a mother and no woman should feel that they need to be," she said.
Ariana also got a tattoo of a bee a year on from the terror attack at the Manchester Arena where 22 people died at her concert last year.
The singer says she has PTSD from the attack, and doesn't think she'll ever be able to talk about the event without crying.