Demi Lovato says she's 'not sober anymore' on new single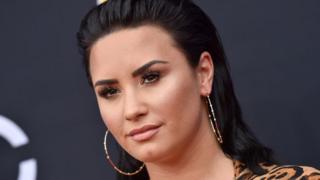 Demi Lovato has released a surprise single called Sober where she appears to suggest she's broken her sobriety.
In the chorus she says: "Mommy, I'm so sorry I'm not sober anymore/And daddy please forgive me for the drinks spilled on the floor."
The song ends with the lines: "I'm sorry that I'm here again, I promise I'll get help/It wasn't my intention, I'm sorry to myself."
The 25-year-old celebrated six years of being sober in March.
The video opens with various clips of Demi, including one where she's holding a wine glass, followed by footage of an ambulance.
It's not clear from the song whether she's referencing breaking her sobriety now or in the past.
Demi has previously spoken about her struggles with addiction, eating disorders, bipolar disorder and depression.
Earlier this year she told US TV host Dr Phil that she felt like she'd conquered her addiction to alcohol, but still had a way to go in terms of her issues with food.
"It's kinda the last thing to go," she said.
"I feel like I've conquered my addiction and alcoholism in a way I don't think about it anymore."
The singer told Dr Phil she thought about taking her own life at the age of seven.
"I knew if I were to take my own life that the pain would end," she said.
Demi posted the new single on both her Twitter and Instagram with the caption "my truth".
Fans have tweeted their support for Demi, who offered free wellness and therapy sessions to fans who bought tickets to her latest tour.
Newsbeat has contacted representatives for Demi Lovato.
For advice and information on mental health visit the BBC Advice pages.
Follow Newsbeat on Instagram, Facebook and Twitter.
Listen to Newsbeat live at 12:45 and 17:45 every weekday on BBC Radio 1 and 1Xtra - if you miss us you can listen back here.