Kim Kardashian defends wearing hair in braids: 'I'm not tone deaf'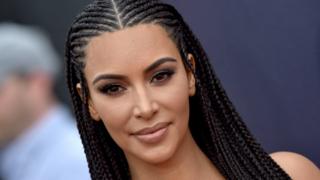 Kim Kardashian West has defended wearing her hair in braids saying she's "not tone deaf".
The reality TV star said she chose the style because her daughter North asked her to.
The 37-year-old wore her hair in Fulani braids at the MTV Movie and TV Awards on Saturday.
She faced some backlash on social media with one Twitter user writing: "You've literally become the face of cultural appropriation in America."
Cultural appropriation is broadly defined as the adoption of elements of a minority culture - typically by members of a dominant culture.
In an interview with lifestyle website Bustle, Kim explained the reason for the hair style.
She said: "I actually did that look because North said she wanted braids and asked if I would do them with her.
"So we braided her hair and then we braided my hair."
It's not the first time she has faced controversy for wearing her hair in braids.
In January she posted a photo on Instagram showing her wearing the hairstyle along with the caption "Bo West".
She was referring to the actress Bo Derek who wore similar looking braids in the 1979 film 10.
Fulani braids can be traced back to the Fulani ethnic group in West Africa - which Kim insisted she knew.
She said: "I remember the backlash when I had the blonde hair and that I called them 'Bo Derek braids'.
"But I obviously know they're called Fulani braids and I know the origin of where they came from and I'm totally respectful of that.
"I'm not tone deaf to where I don't get it. I do get it."
Follow Newsbeat on Instagram, Facebook and Twitter.
Listen to Newsbeat live at 12:45 and 17:45 every weekday on BBC Radio 1 and 1Xtra - if you miss us you can listen back here.