Brooklyn Nine-Nine's Stephanie Beatriz: 'I'm bi till the day I die'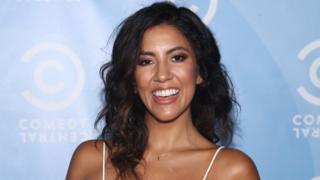 Brooklyn Nine-Nine star Stephanie Beatriz, who plays Rosa Diaz on the show, says she's "still bi", even if she's marrying a man.
She's written about her experience of not feeling "gay enough", feeling like an "outsider" and having her sexuality "misjudged", in an article for GQ.
"In October, I will marry a heterosexual man... but I'll be bi till the day I die," she says.
Many have thanked her for explaining the bisexual experience "so perfectly".
Warning: This story contains spoilers for Brooklyn Nine-Nine.
"To be bi is a continual series of coming out moments," Stephanie writes.
"Bisexuality often needs an explanation. It isn't something you can often 'read' on a person and because of that bi people sometimes feel like an invisible part of the LGBTQIA community."
The letters LGBTQIA stand for lesbian, gay, bisexual, transgender, queer or questioning, intersex and asexual or allied.
Stephanie describes her frustrations with having her sexuality defined by "who we're partnered with at any given moment," but says she wants to speak publicly about her experience.
"I've chosen to use that platform to speak openly about my bi-ness, because of other people who may feel invisible and unsure of whether or not to come out as bisexual."
Some people on Twitter have shared how they relate with Stephanie's story.
Others have praised the Brooklyn Nine-Nine star for sharing her experience.
Stephanie's character in Brooklyn Nine-Nine, Rosa, comes out as bi in the show.
Executive producer Dan Goor previously said that idea was influenced by the fact she came out in real life.
She came out publicly on Twitter in 2016 with a simple three-letter word - "yup".
The comment was in response to a quote from Parks and Recreation actress Aubrey Plaza that said: "I fall in love with girls and guys. I can't help it".
Stephanie confirmed the news further with an emoji of a man and woman kissing and two women kissing.
Expanding on her experience in the essay, Stephanie says it "feels good to be out", even though "it's still scary sometimes".
"I feel like an outsider so often. But those moments of discomfort are worth it.
"Living authentically gives me so much joy and feels so honest and good."
Follow Newsbeat on Instagram, Facebook and Twitter.
Listen to Newsbeat live at 12:45 and 17:45 every weekday on BBC Radio 1 and 1Xtra - if you miss us you can listen back here.