Jimmy Fallon 'donated to refugees in Trump's name'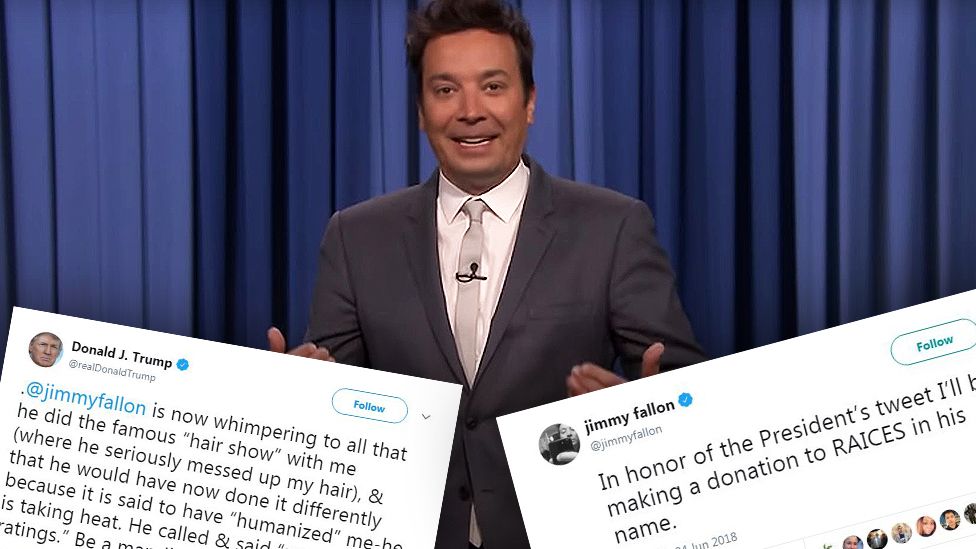 US TV host Jimmy Fallon says he's made a donation in President Donald Trump's name to an organisation which helps support refugees in the United States.
The presenter opened his Monday night show by giving an ironic shout out to the show's "number one fan" before hitting out at Trump's policies.
The two have been having an argument online and on TV in recent days.
Their row is all about a famous interview Mr Trump gave to Jimmy when he was campaigning to be president.
Jimmy recently apologised for the interview, where he 'ruffled' Mr Trump's hair.
The presenter spent three minutes hitting out at the president's use of social media and his policies in his most recent show's intro.
"The president of the United States went after me on Twitter," said Jimmy.
He also questioned whether the president should have "more important things to do" than be criticising him on social media.
Jimmy's donation to the Refugee and Immigrant Centre for Education and Legal Services (RAICES) follows controversy over a recently ended US policy of separating migrant children from their families when illegally crossing the border into the US.
In honor of the President's tweet I'll be making a donation to RAICES in his name.

— jimmy fallon (@jimmyfallon) June 25, 2018
Jimmy joked that Mr Trump would probably confuse RAICES with Reese's chocolate.
On Sunday, Mr Trump tweeted saying Jimmy had been "whimpering" about playing with his hair in that 2016 interview and claimed the host had phoned the president to congratulate him on the ratings the interview had drawn.
.@jimmyfallon is now whimpering to all that he did the famous "hair show" with me (where he seriously messed up my hair), & that he would have now done it differently because it is said to have "humanized" me-he is taking heat. He called & said "monster ratings." Be a man Jimmy!

— Donald J. Trump (@realDonaldTrump) June 25, 2018
Jimmy denied this claim during his show, saying he neither phoned the president nor saw a ratings boost after Mr Trump's appearance.
"I've never called this human in my life. I don't have his number, I don't want his number," he said, according to CNN.
"By the way, Donald, I don't know if you've seen my ratings the past two years, but you didn't help," added Jimmy.
Jimmy Fallon was criticised in 2016 for his interview with Donald Trump during the presidential campaign, when he was accused of being too playful towards the divisive politician and businessman.
"I'm sorry. I don't want to make anyone angry - I never do and I never will," said Jimmy.
"It's all in the fun of the show. I made a mistake. I'm sorry if I made anyone mad. And, looking back, I would do it differently."