Jared Leto 'joins Spider-Man movie universe' as vampire Morbius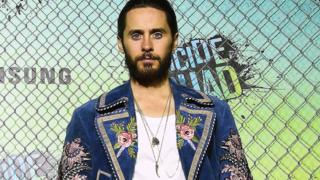 It looks like Jared Leto is joining Sony's Spider-Man universe as vampire Morbius in a standalone movie.
The 30 Seconds To Mars frontman would hop from DC to Marvel, having previously played The Joker in Suicide Squad.
Morbius is the third movie currently in production based on characters in the Spider-Man comic books.
After reports of the casting spread online, Jared shared some artwork of the character on Instagram.
No other cast members have been announced, but a director, script-writers and producers have been confirmed.
Who is Morbius?
Sticking to the Jared Leto brand, Morbius is a dark and complicated character who treads a fine line between villain and hero in Spider-Man comics.
Dr. Michael Morbius accidentally gave himself a form of vampirism when attempting to cure himself of a blood disease, leading him to clash with Peter Parker.
He was introduced as a villain in 1971 but later appeared as a violent anti-hero who attempted to deliver justice - instead of just sucking people's blood.
The movie further expands Sony's comic book movie world in a step which could see the company develop a shared universe to rival Marvel's own Avengers franchise - in which (confusingly) Spider-Man also appears.
There are several other Spider-Man-themed movies in various states of production.
Venom
Tom Hardy is starring as Venom, who is best described as a really messed up, alien alternative to Spidey himself.
He is one of Spider-Man's best-known villains and it looks like the movie will be a dark, gritty alternative to Tom Holland's upbeat web-slinger.
Speaking of which, Tom apparently has a small role in the Venom movie, although it looks like he won't be suiting up as Spidey this time around.
Silver & Black
Marvel has been slow off the mark when it comes to female-led hero movies, but this film, due to start production in 2019, could go some way to redress the balance.
Silver & Black is about femme-fatale duo Silver Sable and Black Cat, both of whom blur the lines between good and bad with their mercenary and heist antics.
Gina Prince-Blythewood, the executive producer of Marvel's Cloak & Dagger TV series, is down to direct and recently said production was waiting on getting the script "right."
Silk
According to US sources, next to join Spider-Man and his amazing friends will be a movie about his classmate Cindy Moon - also known as Silk.
Cindy was bitten by the same radioactive spider as Peter Parker and developed similar superhero abilities.
She was played by Tiffany Espensen in Spider-Man: Homecoming and could mark the first superhero movie to star a Korean-American actor in a lead role.
No release date has been announced for Morbius - or for Silk, or Silver & Black.
Life director Daniel Espinosa will direct Morbius, Netflix's Lost In Space writers Burk Sharpless and Matt Sazama will pen the script and Avi Arad, Matt Tolach and Lucas Foster will produce the movie.
Follow Newsbeat on Instagram, Facebook and Twitter.
Listen to Newsbeat live at 12:45 and 17:45 every weekday on BBC Radio 1 and 1Xtra - if you miss us you can listen back here.