Liam Gallagher and QOTSA fans furious over Festival Republic 'apology'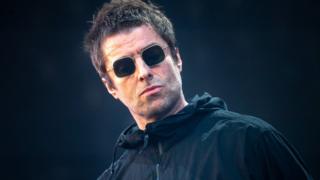 Festival Republic has blamed the company running its bars for the huge queues that saw fans miss headline sets over the weekend.
People complained it took two hours to get a drink at the Liam Gallagher and Queens Of The Stone Age gigs in London's Finsbury Park.
Festival Republic says the queues were because not enough staff turned up.
That explanation hasn't gone down well, with organisers being accused of "passing the buck".
The gigs took place over one of the hottest weekends of the year - but getting your hands on a drink was not easy.
Others posted footage of the queues.
Some people were also genuinely worried by the number of people being packed in.
On Sunday evening, after being hit by so many complaints, organiser Festival Republic put out a statement, which blamed the company running the bars.
In the statement, The Workers Beer Company says: "Here in Finsbury Park on Friday and Saturday there was unprecedented failure of up to 40% of our staff to turn up.
"As a consequence people had to wait an unnecessarily long time to be served. For this we unreservedly apologise to the audience."
The statement goes on to say Festival Republic bore no responsibility "for us letting down the audience and we have already apologised to them".
But it's that last bit that hasn't gone down well with fans.
Newsbeat has contacted Festival Republic for a further statement but so far, they haven't got back to us.
Follow Newsbeat on Instagram, Facebook and Twitter.
Listen to Newsbeat live at 12:45 and 17:45 every weekday on BBC Radio 1 and 1Xtra - if you miss us you can listen back here.