Wimbledon 2018: Who's allowed to sit in the Royal Box?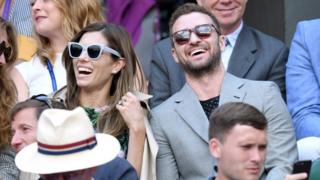 Picture this. You've got a Wimbledon ticket and the excitement has well and truly kicked in.
But you can't help notice that there's one area of seating where the likes of the Duchess of Cambridge and Justin Timberlake are sitting.
The Royal Box - preserved for all things illustrious, prim and proper - is meant to have the best seats in the house.
Question is, what does it take for you to rub shoulders with the royals?
Invitation-only
Sorry to break it to you but it is an invite-only situation.
The chairman of the All England Club, the private members' club where Wimbledon is held, sends out invitations to the British Royal Family and royal families from around the world.
Invitations are also sent out to heads of government, celebrities and other notable people.
The Royal Box has seen everyone from Victoria Beckham and Samuel L Jackson to Mary Berry and Tess Daly in the past.
You often find quite a few athletes in the box too, such as British boxers David Haye and Nicola Adams.
Although it is called the Royal Box, it's not guaranteed that a member of the Royal Family will always make an appearance.
Fancy foods
You probably won't find a supermarket meal deal floating about but the alternatives are quite decadent.
It's unclear what the exact menu is, but you can expect afternoon tea, drinks and an exclusive type of strawberry on offer to Royal Box attendees (it's called a Jubilee if you're interested and it's supposed to be sweeter and firmer).
Dress code and formalities
Before 2003 you were expected to bow or curtsy to members of the Royal Family in the box as you walked by. That tradition was ended by the President of the All England Club, the Duke of Kent, in 2003.
The only exceptions are if you meet the Queen or the Prince of Wales.
As for the dress code, you need to come dressed smartly and it's taken very seriously.
In 2015, Lewis Hamilton was reportedly denied entry to the Royal Box for not wearing a jacket and tie.
You are advised not to take a hat with you as you could obstruct the view of those behind you and to be honest, fair play - nobody is a fan of someone who blocks their view at an event.
Follow Newsbeat on Instagram, Facebook and Twitter.
Listen to Newsbeat live at 12:45 and 17:45 every weekday on BBC Radio 1 and 1Xtra - if you miss us you can listen back here.