#WaistcoatWednesday is trending ahead of England's semi-final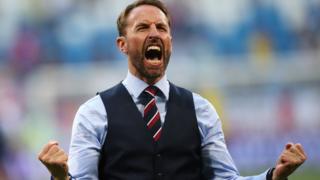 Forget your England football shirt, today is all about #WaistcoatWednesday.
People are paying homage to stylish football manager Gareth Southgate's signature attire on Twitter.
The craze has taken off up and down the country with people wearing and sharing their best waistcoat game ahead of the World Cup semi-final against Croatia.
Some are particularly strong.
Some work places are taking it seriously.
People have even got their animals involved.
If you don't have a waistcoat, improvise. Obviously.
Even our reporter Ben Mundy in Russia got involved - posing with a Gareth Southgate "lookalike".
But there's been one slight issue with the trend.
The wrongly spelled hashtag also took off on Twitter - using the word "coast" rather than "coat".
It hasn't seemed to spoil the fun though.
These lads went full-on boy band.
Schools have been loving it.
The trend has even spread across the world.
And the craze has time-travelled too.
Some people did notice the mistake though, and hope England are better at football than the nation is at spelling.
The trend is also for a good cause.
Blood cancer charity Bloodwise came up with the idea for people to wear one, share their photos and donate to the charity.
The organisation said: "In honour of the England boss's new-found football fashionista status, we're inviting supporters to grab a waistcoat and button up to beat blood cancer."
Newsbeat is at the World Cup this summer. Follow our coverage on Instagram, Facebook and Twitter.
Listen to Newsbeat live at 12:45 and 17:45 every weekday on BBC Radio 1 and 1Xtra - if you miss us you can listen back here.