Will Smith smashes In My Feelings Challenge with bridge dance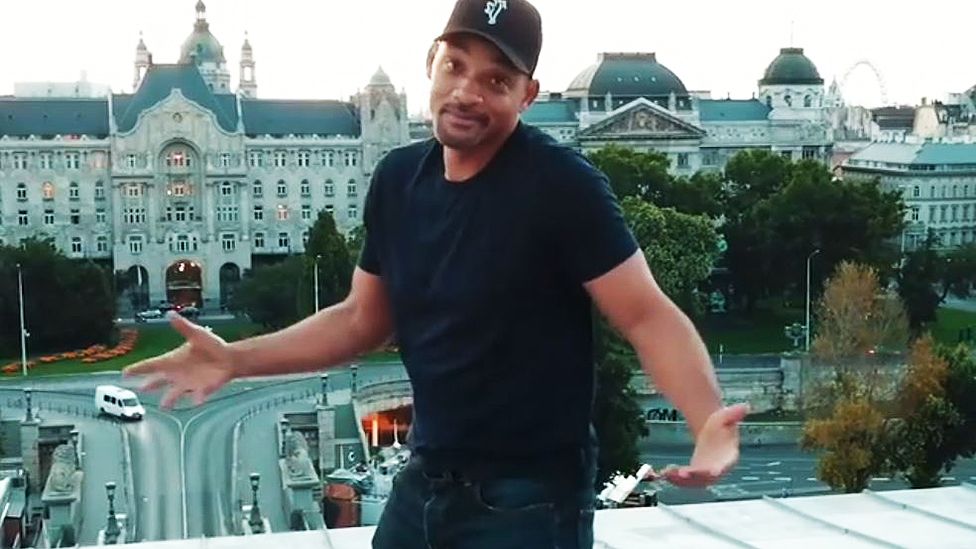 If you've not seen the #InMyFeelingsChallenge being shared on social media, where have you been?
The dance craze was started by Instagram comedian Shiggy, who encouraged others to get involved - and get involved they did.
He was filmed in the street dancing to Drake's In My Feelings on a car stereo and it has evolved massively from there.
It has appealed to civilians and celebrities alike, but most people seem to agree that Will Smith's attempt is the best so far.
It's certainly the most extra.
But, in defence of anyone planning on trying it in their cul-de-sac with a smartphone, Will Smith recorded his with at least one cameraman, drones and access to an impressive building - so "smashing it" was always going to be the outcome here.
Will says the video was spontaneous and that he didn't have legal permission to enter the bridge building - a contributing factor to his "stiff" dance moves.
Shiggy says he's in awe of the fact that so many celebrities have taken up the challenge - especially Will.
"I like the fact that he took it to the next level, and plus he really took his time," he tells Newsbeat.
"It's like he risked his life just to do the challenge and that's crazy because I look up to Will Smith."
Despite Will being the most famous celebrity to do the Shiggy, his favourite attempt was by his mum.
"That showed me how big an impact it had before the celebrities were doing it," he says.
"Being a fan of Will Smith and me being so afraid to put my mum on camera because she doesn't like it. It's the best of both worlds."
Other big names to have shared their versions of the challenge include Ciara.
Her video features in Will Smith's epic. It's set against a view of the mountains and ocean in Cape Town.
Having a car to jump out of to start the dance isn't essential, but it certainly helps.
You can do it while you pop to the shops, if you like.
And it's not just customers who are getting involved - you might find yourself queuing at the check-out while the staff upload their attempts at the challenge.
Pregnancy is certainly no obstacle to taking part.
And neither is being Lucius Best, aka The Incredibles' Frozone.